Up To 56% Off South Shore Furniture Bookcases @ Amazon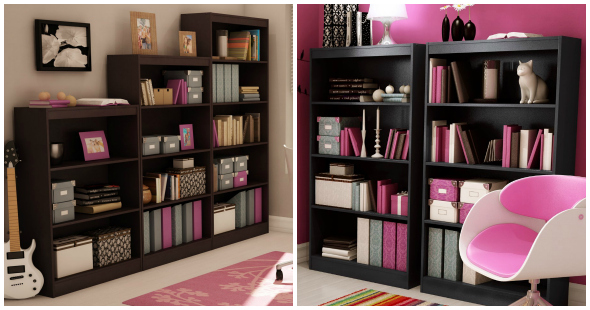 I've always loved reading and I still do, though I don't have nearly as much time to dedicate to it as I once did. I was a very early reader and remember toting around my John Grisham tomes in grade three. I love my e-reader but nothing beats a real book so I have a ton of them and have always liked organizing and displaying them. They can also be great for general storage along with some nice baskets; or for picture frames and collections of all sorts. I found a few great deals on different sizes and colours of bookcases at Amazon Canada and thought I'd share them in case you're in need of some new shelves! Most notably, the South Shore Furniture Axess Collection 3-Shelf Bookcase in Chocolate is 56% off at just $58.98.
I've got a few South Shore Furniture pieces, including a headboard and storage shelf unit -- and while it's obviously not hardwood, hand-made, boutique stuff -- I find the quality quite good. Every time I've seen reviews for any of their products they've been overwhelmingly positive. It's pretty good, sturdy stuff!
The Axess Collection by South Shore Furniture has a few different size and colour combinations, as I mentioned. The 3-Shelf Bookcase in Chocolate was my initial find due to its great discount. It's got simple, sleek lines creating a contemporary look and would fit into almost any decor. It's $58.98 and will ship for free from Amazon.ca! The same unit in Black is $54.99.
If you're looking for something a little larger, the South Shore Furniture Axess Collection 4-Shelf Bookcase has also been marked down. The matching unit to the one above (Chocolate) is 39% off at $87.99 but the Black version is 43% off at only $68.99.
I also love this South Shore Reveal Collection Bookcase in Chocolate; it's 45% off at $107.99. It could act as a room divider, as well as the usual flat-against-the-wall bookcase, as its back is also laminated. That would look great in an apartment, condo or open-concept home to create the illusion of different rooms.
There are a few other markdowns on South Shore Furniture Collections if you like their look but maybe want something other than a bookcase. Some aren't anything to write home about but 56% off ain't bad! After doing some price comparisons around the web, this is by far the best pricing for these units from this manufacturer. Lowe's has the same line and the least expensive bookcase (the 3-shelf) is $93 and the prices escalate from there.
Each of these units will ship to you for free from Amazon; I didn't see any indication of an oversize/overweight charge which is wonderful. Gotta love Amazon!
(Expires: Unknown)