Tiny Prints (U.S.) Promo Codes: Stackable Savings On Holiday Cards (EXPIRED)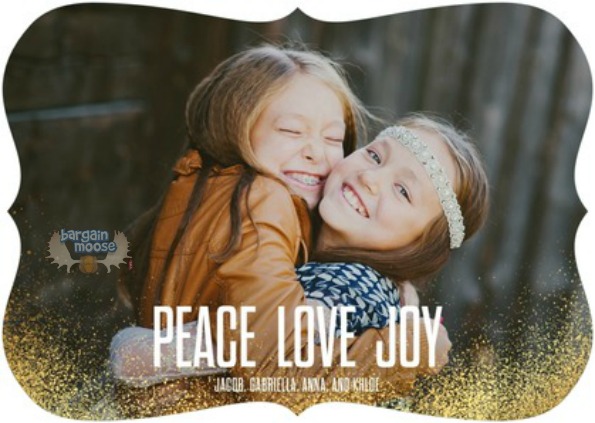 I love stacking coupons! It is not often that we can do it here in Canada, so when I see this, I have to get the word out. Tiny Prints has an amazing deal on their gorgeous holiday cards this morning. They are having a flash sale giving you 10% off holiday cards with promo code. On top of that, you can add their Cyber Week promo code to get another 40% off.
Click here to get your holiday cards @ Tinyprints.com now
Coupon Code: FLASH1204
Discount: 10% off holiday cards
Expiry: 4th November 2014 @ 11amET
Coupon Code: CYBER40
Discount: 40% off holiday cards
Expiry: 4th December 2014
I remember the first time I saw Tiny Prints in a magazine and thought how gorgeous their products were. The only downside to them is that they ship from the U.S., and there is always the potential of getting duties at your door. Their shipping is not all that cheap either, but you can make up for it with these great discounts! It also looks like they've slashed their flat rate shipping amounts from $25 to $15. This also means that if you want to get anything else besides the cards from Tiny Prints, now is the time so you only pay one fee.
If you haven't yet ordered your holiday cards, you really need to now as time is ticking! I personally love getting holiday cards from friends and family and I try to send them out every year. I have a few friends who do not, because they say they don't have the time and that makes me sad. We need to make time to keep in touch with our friends and family and once a year shouldn't be a big deal. Besides, don't you want your Aunt Myrtle and your best friend/high school rival to see how gorgeous your children have become?
Ok, I know that isn't in the spirit of the holidays, but reaching out and letting people know you are thinking about them is pretty important, especially at this time of year when some of us could be lonely and your card could make their day.
So, what makes these cards so different from the rest? They are simply beautiful. The designs are better than any site I've seen for personalized cards.
I added 50 cards to my cart, which were $2.33 each. I got 50 envelopes free. The original price would have been $116.65. I added the Cyber code and got a discount of $46.66. I then added the flash sale coupon and saw a discount of $7 on top.  My total came down to $62.99. The only thing that irked me is that if you leave your cart, you'll have to re-enter your promo codes.
They also have other deals on like buy one, get one free on Christmas stockings and 20% off personalized stamps and address labels.
There are other Tiny Prints promo codes available in the forum that you could try to stack for your other items. Let me know what you save!