The Body Shop: 30% Off + Free Gifts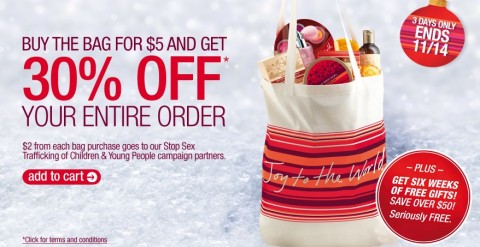 I was not going to post this because I didn't see this promotion till now, and it is the last day... but it is just SO GOOD I can't resist posting it! So for all you Moosers who check the Moose often.. this is for you!
If you buy the $5 Joy bag you will get 30% off your entire order. Also, you will get 6 coupons for 1 free product per week for 6 weeks... a $50 value.
That is a seriously good deal right there.
This is valid today, November 14, 2010 until almost midnight. So there is like 7 or so more hours to take advantage of this. I am going to do it, just for the coupons for free stuff man! Shipping is $5 so reasonable!
*Discount not valid on gifts. Discounts are applied on your final credit card receipt or invoice - you will not see your discount applied when submitting your order online.