The Bay Canada: 1 Million HBC Reward Points With Dyson Purchase (Worth $125)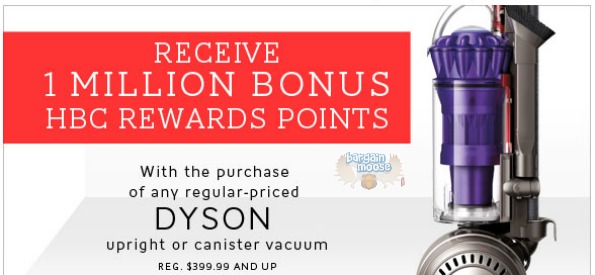 This is the deal @ The Bay that pretty much sold us our Dyson. Get 1 Million HBC Reward Points With a regular priced Dyson Vacuum purchase of $399.99 or more.
Now if my calculations are correct:
1,000,000 / 80,000 x $10 = $125
The 1 million points works out to $125 worth of HBC points. This deal is for both upright and canister vacuums. The 1,000,000 points are valid for both in store and online purchases.
It says $399.99 and above, but the closest I find to that price point is 2 priced at $499.99:
I own the DC24 All floors and it does a good job. However, we got it before we had two cats and in retrospect one of the more powerful, larger vacuums might have been a wee bit better. We just have to empty the canister a few times if we don't vacuum frequently enough. Either way, I am more than pleased with my Dyson, it is a great vacuum cleaner.
Expiry: 12th, July 2012