Teambuy: $69 for $150 Worth @ Dealuxe + Free Shipping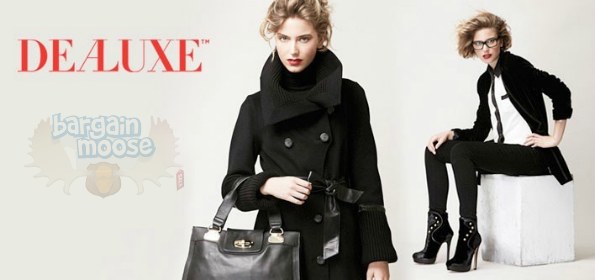 It never rains - it pours deals! Teambuy has a voucher for one of my favourite shopping networks: Dealuxe. Pay only $69 for $150 worth at Dealuxe Canada. You get free shipping on every order - and the voucher can be used on both regular and sale merchandise.
I found the deal under the York Region, as a side deal. Just scroll down and you should be able to find it.
What I like about this deal is that it cab be used on reg. and sale items, it is redeemable completely online, you get free shipping and free returns, and they have some of my favourite designers as well!
It is max 1 per person, but unlimited as gifts. Tax is not included. It cannot be used in conjunction with any other promotional codes. Entire credit amount must be used in one transaction (no carry over value).
I am going to buy one of these, and maybe convince my husband to get one as well - or just buy him one. :-)
Dealuxe has some really too deals on right now like this Collina Strada Alea Trio Bag, originally $150, now $57.50