Team Buy Canada: $61 For KitchenAid 9 Speed Digital Hand Mixer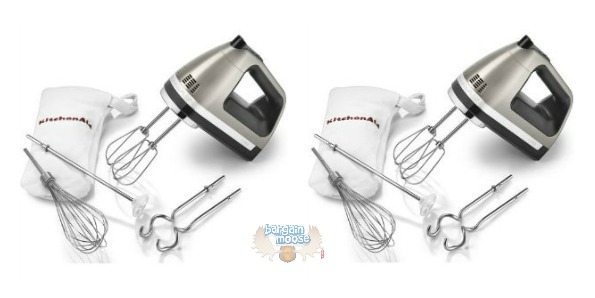 TeamBuy Canada is selling KitchenAid 9 speed digital hand mixers for $61.  Item is open box and re-certified with 180 day warranty.  No limit to amount of buys and no expiry date.
You will receive a KitchenAid 9 speed digital hand mixer with turbo beater and accessories:
Features are:
Stainless steel turbo beaters
Liquid blender rod attachment
Stainless steel dough hooks
Clean touch control pad
9 speed control
Accessory bag
Lockable swivel cord
Oversized beater eject button
Protected air vents
I have searched many websites looking for comparison pricing and the cheapest I can find it anywhere, with all attachments included is Amazon.com and they have it on sale for $99.  I am convinced that the price of $61 is a great bargain.
I use a hand mixer for many things and I do make a lot of our foods from scratch; however, many different kits you can buy now require that you mix with another ingredient at a certain speed.  This is where a hand mixer comes in.  I use mine, probably on a daily basis, for cookies and dough to sauces, breads, eggs, creams, toppings, and so much more.  It saves me a ton of time and that alone is worth the money.
Shipping: Flat rate of $15.
(No Expiry)