Take 80% off The Better Living Toilet Caddy, now only $8 @ Amazon.ca!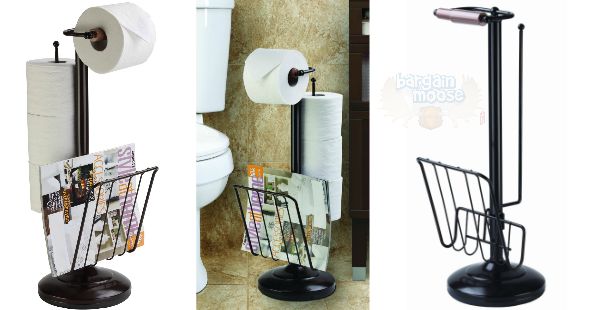 *** BUMP - back in stock at this price! ***
Better organization in the bathroom is something I have always wanted. Now I can have a little more organization with this Better Living Products Toilet Caddy Tissue Dispenser for just $8, which is 80% off the regular price at Amazon Canada. Spend $25 and you will get free shipping @ Amazon.ca as well, or free shipping for those of us with PRIME!
The Better Living Products Toilet Caddy Tissue Dispenser With Magazine Rack in Oil Rubbed Bronze Finish is a great steal for just $8. The original price of $39.19 was even pretty reasonable, but why not save 80% when you can? The only downfall is that this item takes between 1 and 3 months to ship. Though, if you spend $25 or more then you can get free shipping from Amazon.ca. Just take a look at what other Canadian retailers sell this product for:
$44 @ Lowes.ca
$34.99 @ Sears.ca
If you often get the slight temptation to kill your other half because they never refill the toilet paper dispenser, then this may save his life. You will never have to waddle across the bathroom with your pants half way down to get toilet paper ever again, since you can stack 3 rolls neatly on this Better Living Products Toilet Caddy and even have one roll on the toilet paper dispenser. Not only that, but the caddy will neatly hold your reading material if you are planning to take a little while in the bathroom.
The Oil Rubbed Bronze colour is the only option on sale right now, but it will pretty much look good with any bathroom decor I would think. It even looks like it would fit in small spaces well, which is important in most bathrooms. My bathroom is rather large, but the space between the toilet and the wall or the sink is rather small so I am glad this will fit in small spaces well. The Amazon Canada blurb for this product even says that it is easy to assemble and no tools are required. It even has some pretty great reviews.
Some Amazon Canada reviews say that this product is built sturdy and has a heavy base, which means you're not going to knock it over when you pull on the toilet paper or try to get your favourite magazine out. Some reviews also say that the magazine rack sticks out a little farther than the picture shows, so keep that in mind as well. Either way, you're not going to find a bathroom caddy like this for this low of a price. For $8, I really don't think you can go wrong with this one!
(Expiry: Unknown)