Take 71% Off Lego Reusable Desk Calendar For Just $9 + $5 Shipping @ MadDeal Canada (EXPIRED)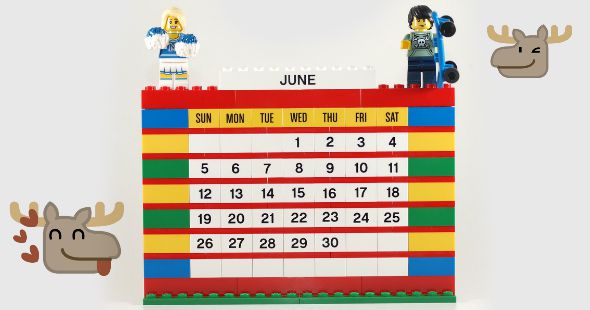 I love everything Lego, don't you? If you are looking for something Lego themed for your office desk or counter at home, then you may enjoy this Lego Inspired Reusable Desk Calendar from MadDeal.com. This calendar would have normally cost around $30, but right now it is on sale for just $11. Plus, you can use our Bargainmoose exclusive coupon code for an additional 20% off which leaves you paying just $8.80 for this adorable accessory plus $5 for shipping & handling charges.
I wrote a blog about all kinds of DIY Lego ideas a couple days ago, but if you're not very creative and still want a cute Lego inspired accessory, then keep reading. This Lego Inspired Reusable Desk Calendar would cost you between $30 and $50 elsewhere, but MadDeal Canada has it on for just $11. Plus we even have an exclusive Bargainmoose coupon code to get an additional 20% off this nifty little knick-knack. So pay just $8.80 and have the calendar that has everyone talking. If you count your $5 shipping cost, you will pay a total of $13.80 but even so that is much cheaper than you can get this product anywhere else.
Coupon code: BARGAINMOOSE
Discount: 20% off
Expiry: 31st August 2015
At first this nifty little trinket may seem complicated, but don't worry. The Lego Inspired Reusable Desk Calendar from MadDeal.com comes fully equipped with an instruction sheet and tons of awesome configurations. You can even use the specially marked bricks to keep track of holiday, birthdays, vacations, appointments and so much more. Another great feature is that this Lego calendar is environmentally paper so you won't have to use a paper calendar ever again. This Lego inspired calendar can even be used year after year. So whether you buy it for yourself or as a gift for a loved one, you are sure to get your money's worth out of it. Especially considering you will pay just $13.80 all in. The only down fall is that the calendar will come in a random colour, you don't get to choose. You won't complain though when you see the price that other retailers are selling this item for For example, you can get it for $53.66 (on sale from $75) @ Amazon.ca.
If you're not so fond of this Lego Inspired Reusable Desk Calendar then you can always check out the other deals available at MadDeal.com. Just keep in mind that this coupon code is only valid for another two weeks. Also be sure to note that shipping costs will vary depending on the item. Check out the MadDeal Canada coupon codes and discounts in our Bargainmoose forum.