Take 50% Off Play-Doh Magical Designs Palace Just $12.50 @ Amazon Canada (EXPIRED)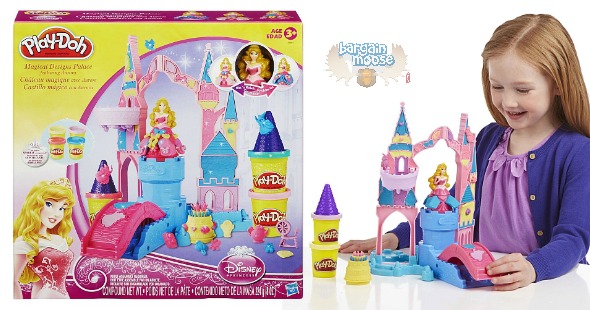 **BUMP! This fabulous product is back at this great price**
During the cold Winter months we keep ourselves occupied with trying to entertain the kids indoors. Play-Doh may be a wonderful solution for your family. Right now, Amazon Canada has the Play-Doh Magical Designs Palace on sale for for 50% off the regular price. You will pay just $12.50 for hours of fun with your little ones.
This Play-Doh palace is about as magical as Play-Doh gets. This Play-Dog Magical Designs Palace for just $12.50 will allow your little girl to create magical moments in the palace with Aurora. This set is best suited for children ages 3 and up. Let's face it, name a child under 3 who does not try to eat Play-Doh? None!
How do you create a sparkly palace that is good enough for a princess, you ask? Simply decorate the castle with the Play-Doh modeling compound as well as the Play-Doh sparkling compound. There is an extruder that will allow you to create as many dresses as you like for the beautiful Princess Aurora figurine. You can even make candles for her birthday cake.
Included in this Play-Doh Magical Designs Palace is the 2 piece castle facade, a bridge extruder, doll top, 2 dress attachments, cake attachment, 2 tower tops, 2 containers of Play-Doh and 2 containers of sparkle Play-Doh. I did a little price comparison just to ensure that this is the best deal around. This Play-Doh set seems to sell for double the price at other retailers. You will pay $24.94 @ Walmart.ca for this Play-Doh Set or the next best price is $18.67 @ ToysRUs.ca.
I suggest adding two of these to your cart, or if you have a little boy then maybe he will prefer the Play-Doh Diggin Rigs Buzz Saw which is also only $12.50 from Amazon.ca. If you add two of these Play-Doh sets to your cart then you will also qualify for free shipping. Amazon.ca allows free shipping on all orders over $25 after discounts.
(Expiry: Unknown)