Take 50% off Chuggington StackTrack Stone Quarry Playset Only $38 & Free Shipping @ Amazon.ca (EXPIRED)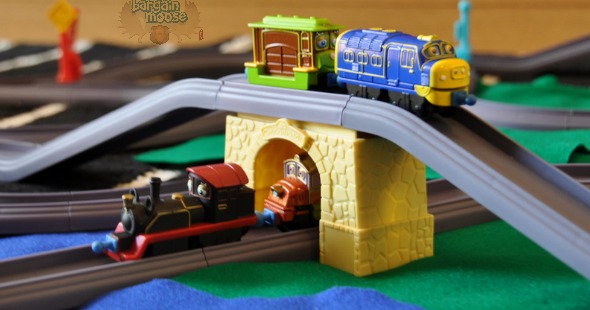 Wouldn't you like to watch your little boy whiz and whirl his trains through his brand new Chuggington track set? You can also rest assured that your wallet won't be feeling any pain. While supplies last, you can shop at Amazon Canada and take 50% off the original price of the Chuggington StackTrack Stone Quarry Playset. This discount will leave you paying just $37.47 instead of $75.
Honestly, my son is obsessed with Thomas The Train, but I am sure he would settle for a train set like this Chuggington StackTrack Stone Quarry Playset. For just $37.47 you will get the special deco High Performance Brewster and 2 Cargo cars, 2 cargo loading stations, 2 cargo pieces, a drop bin, stone crash gates and tracks. This set is best suited for children ages 3 and up, but my two year old has no difficulties with playing with these sets.
Your child can couple up Brewster to his two cargo cars so that he can go pick up his rock cargo at the top of the hill. There are spirals, entry gates and more to occupy your little one along the journey. After collecting his second rock cargo, your child can push Brewster down the steep hill and through the crash gates to the drop off bin. There are four different layouts so you and your little one will never get bored of redesigning the track and playing allover again.
Another great feature about the Chuggington StackTrack playsets is that you can stack this set with any other StackTrack set - they are all compatible! You can make your playsets wider, taller and more action packed than ever before. The tracks and risers are now even easier to connect than before.
I tried to price compare this set with other Canadian retailers, and to my surprise this playset is actually difficult to find in Canada. To give you a rough idea of the discounts you will receive, this Chuggington Stone Quarry StackTrack Set is on sale from $60 down to $50 @ ToysRUs.com. Here is one of the reviews on this Chuggington StackTrack set:
Bought this set for my two year old son who loves Chuggington. Overall, I'm pretty pleased with the purchase. The design isn't too bad. My only complaints are that the two brown railed decline pieces didn't allow the train to pass through them smoothly. I did to pull them apart (slightly) so the train didn't get hung up. The other complaint I have is that the gate pieces that clip to the track can be rather difficult to pull off when you change the layout.
Another bonus you will receive when shop at Amazon.ca is free shipping. You can attain free standard shipping on all orders from Amazon Canada that exceed $25 after discounts. That means that this purchase will automatically be eligible for free shipping.
(Expiry: Unknown)