Sweet Spirits Cookie Cutters Just $11.50 @ Amazon.ca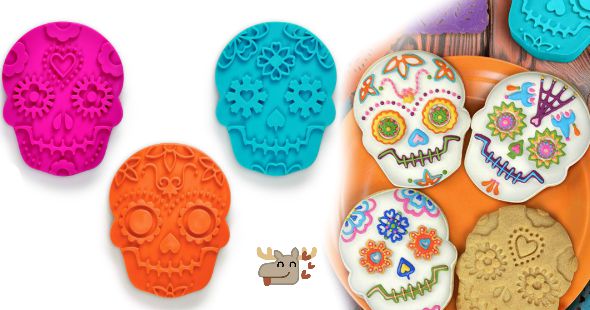 Are you a fan of candy skulls or anything of the sort? Or perhaps you are searching for a perfect mold to make your family some Halloween cookies. Amazon Canada has these adorable candy skull cookie cutters for a great price. You can grab these Fred and Friends Sweet Spirits Cookie Cutters (set of 4) for just $11.50. Spend $25 to get free shipping.
Candy skulls are not only fabulous for Halloween, I would use these Fred and Friends Sweet Spirits Cookie Cutters all year round. I have some adorable candy skull decor in my bathroom and you may be able to call me obsessed. Either way, these cookie cutters are fabulous and at a great price too. For just $11.50 you can have yourself a set of 4 quality Sweet Spirits Cookie Cutters made by Fred & Friends when you shop at Amazon Canada.
I found these cookie cutters for $10 USD at the Fred & Friends website, but once I considered the shipping costs to Canada these cookie cutters would have costed about $45. This is your better bargain I would say. These molds appear easy to use, and leave lots of room for decorating your cookies to make them 100% personal and unique. They might even make great Halloween or Christmas gifts I would think. I can't wait to try out my own decorating skills.
Fred & Friends also has a large variety of other cookie cutters available for purchase. If you are going for a Halloween theme then they have their "Snack O Lantern" cookie cutters, or if you just like to make cute cookies then you may be interested in their "Munstache" cookie cutters. Either way, have a browse through their selection within the same link as the Sweet Spirits Cookie Cutters and have at 'er. Here is an idea of the Fred & Friends cookie cutters you can buy from Amazon.ca:
Set of 2 Snack Attack Cookie Cutters for $14
Set of 3 Tough Cookie Cutters for $14
Set of 4 Sweet Spirits Cookie Cutters for $11.50
Set of 5 Munstache Cookie Cutters for $11.50
Set of 5 Snack O Lantern Cookie Cutters for $15
and more!
So as you can see, you will have the perfect collection of cookie cutters (especially for Halloween) if you snag a couple of these Fred & Friends cookie cutter sets from Amazon Canada. If you spend $25 or more, you will even get totally free shipping from Amazon.ca.
(Expiry: Unknown)