Swarovski Canada: Free Picture Frame with $170 Purchase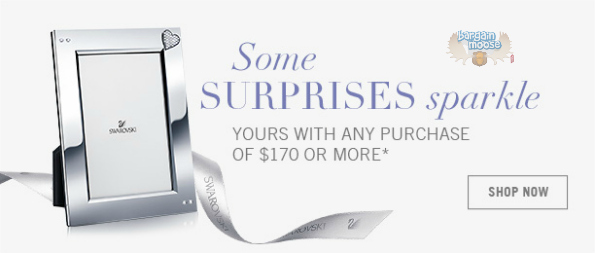 Swarovski Canada is back with a new gift with purchase for Mother's Day. Purchase $170 worth of lovely Swarovski ornaments or jewellery in order to receive this lovely Swarovski picture frame for free.
As I have mentioned previously, I like to blog about the Swarovski free gift with purchase deals because Swarovski Canada never has online sales. These are the only way to get a deal on Swarovski jewellery and more from the makers themselves.
There is not much information about the photo frame (or really any at all) but it looks pretty and I am guessing it fits a 5" x 7" photo - but do not quote me on that. These offers usually last about two weeks, but supplies are limited. You will only receive the picture frame if you see it added to your cart at checkout, like this:

If the frame does not add to your cart, then your cart total is not high enough or the promotion has ended.
Swarovski is celebrating 10 years of Mo - the crystal cow. This year they have released a special edition Love Mo on top of the usual yearly Mo. This adorable little crystal cow has horns and a bell of pink crystal, a body of white crystal, and little heart flower prints on her side. The cost for this little sprite is $80.
Love Mo is not the only Mo that is on limited edition. There are some gorgeous Mimi Mo statues being sold in various colours. My favourite Mo is the Mini Mo - Vibrant Yellow, Limited Edition 2015. The crystal moves between red, orange, and yellow to produce a vibrant Mo that will dance in the sunlight. This Mini Mo reminds me of a sunset. It costs $45.
I added the larger Mo and two Mini Mo statues to my cart for a perfect total of $170. Then, the picture frame was added to my cart. As you are spending $170 or more in order to receive the free frame, you will also receive a few other benefits:
Free Shipping
Free Gift Bag
Free Greeting Card
The first benefit is automatic: all orders of $120 or more ship free. The free gift bag and the free greeting card you will select in your cart page. Just check the boxes that say, "I would like a free…" to receive these freebies as well. That way, your statue or jewellery or whatever else you choose will be ready to gift when you receive it.
(Expiry: Unknown)