Star Wars @ Amazon.ca: Get $10 off $50 or $25 off $100 PLUS Stacks with FREE $10 on $40 Debit Promo! * HOT *

It's "FORCE FRIDAY" today and stores all over the world are running special promotions to celebrate the midnight release of the new Star Wars movie. Amazon has released a few coupon codes, which is quite a rarity for them. If you're buying Star Wars merchandise directly from Amazon.ca themselves (not third party sellers), you can save either $10 off $50 or $25 off $100. What is even more interesting is that you can also stack this with the free $10 credit promo for spending over $40 and using a debit card on your order! And even better, you're spending over the minimum threshold so your order will have free shipping too. :)
Click here to shop Star Wars @ Amazon.ca now

Here are the coupon codes for the Star Wars promotion:
Coupon Code: STARWARS10
Discount: $10 off $50+
Coupon Code: STARWARS
Discount: $25 off $100+
Expires: 13th September 2015
And here are the details for the free $10 credit promotion.
Coupon Code: VDEBIT10
Discount: Free $10 credit on $40
Expires: 7th September 2015
It's amazing that these two deals stack together. If you pay by debit card and spending $50 or more, you're getting $10 discount as well as $10 free credit – this is fantastic!!
Here's a screenshot of a shopping cart with both the promos applied: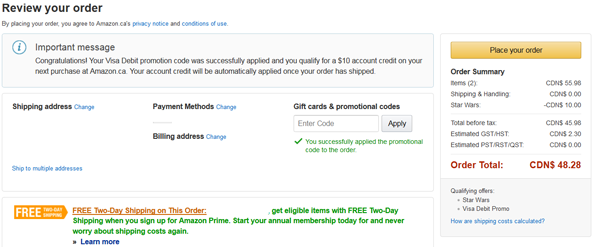 There are so many fun and funky Star Wars item on Amazon; I will highlight a few for your viewing pleasure:
Any Star Wars fans here? I am more of a Star Trek geek and not so much into Star Wars, so I won't be running out to catch the new movie release.