Sodial Lego Inspired Wrist Watch Just $8 + Free Shipping @ Amazon.ca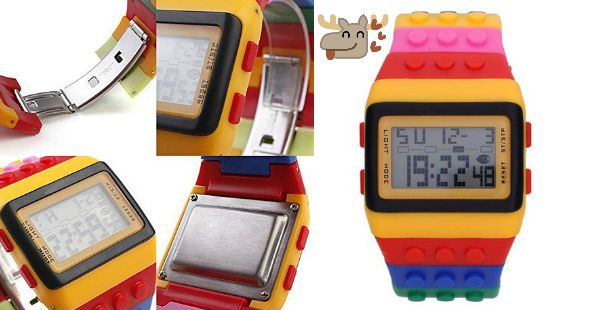 I just adore this item for both adults and kids. Right now you can shop at Amazon.ca and snag this awesome Sodial(R) Multi -Colour Block Brick Style Wrist Watch for just $7.53 including shipping. This item would be a perfect gift, or you can snag it for yourself and not have to feel guilty about the price.
The Sodial (R) Multi-Colour Block Brick Style Wrist Watch is just perfect. As an adult, I would wear this watch faithfully every day. This Lego inspired watch is just $7.53 which is an awesome price if you ask me. If you take a look at what similar watches sell for elsewhere, you will feel the same. The cheapest similar watch I could find was at Amazon.ca as well for $18, and that did not include shipping.
This Sodial Wrist Watch comes equipped with an LED Night Light, so if you need some guidance to the bathroom or refrigerator at night when you wake up randomly at 2:30 AM, then you have it. The band is about 25 cm long, so take a quick measure of your kids' wrist or your wrist to ensure that it will fit. You can even rest assured that this watch is water resistant! If you are washing your hands, the watch will not get damaged. This funky block style watch is multi-colour so it can be bought for any gender whether it be men, women or kids, and I just can't get over this super affordable price.
For just $8 this watch features a ton of cool attributes as well. It tells time, has a calendar, can have an alarm set, nightlight, and a stop watch. Lego enthusiasts, now is your chance to wear your hobby proudly while being stylish and not spending a fortune. The display is even LED which makes time reading quick and easy for both the young and the old. Your child won't have an excuse to be late ever again. ;)
Amazon.ca usually offers free shipping on all orders over $25, but since this item is shipped and sold by Happy Planet as opposed to Amazon, you will get free shipping. Happy Planet ships their items from Hong Kong, so I would expect the wait to be 6-8 weeks to get your purchase.
(Expiry: Unknown)