Snap Circuits Pro Was $110 | Now $80 @ Amazon.ca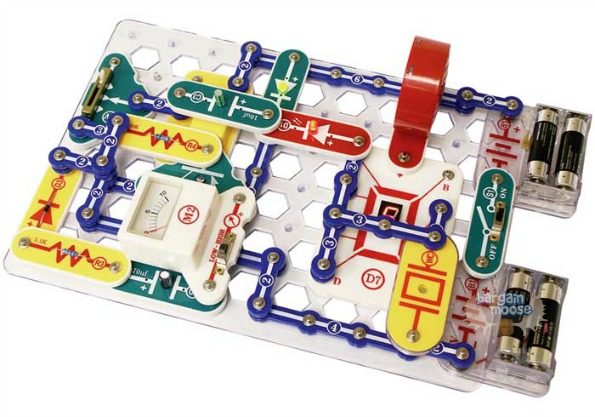 Here at Bargainmoose, we don't just write posts willy-nilly. We need to know something is a fantastic deal and we also like to feature products that we've tried and love. Snap Circuits is one of those for me. I bought my middle son a Snap Circuits set for Christmas as a last-minute thing when I realized that his brothers had more gifts than he did. Well, it was his most favourite gift and he plays with it daily. So, I'm excited to see Amazon has the best prices on all of the Snap Circuits kits, because that's what he is getting for his upcoming birthday. One of the most notable deals is on the Snap Circuits Pro set, which was $109.70 and now $80.68 plus free shipping.
Here's one little warning for you: don't leave the set on the floor while you walk into the darkened room to kiss him goodnight. When you step on the clear, plastic bumps (which you will not see in the dark), it will feel like spikes are going to go through your foot. I think LEGO has a new competitor on its hand in the kill the parents department.
Besides that imminent danger, this set is so great for many reasons. For one, it keeps your kids busy for hours and unlike video games or other toys, they really learn a lot about electronics. This product has won a ton of awards just to prove that its so great. If you really don't believe me or the awards, how about one of the reviewers that have given each of the sets for sale on Amazon top ratings?
This exact set sells for $109.99 at Mastermind Toys.
If you want something more basic, the Snap Circuits Jr. has only 100 pieces (compared to 500 in the pro set), as was $36.95, now on sale for $31.49. It sells for $39.95 at Chapters Indigo and other stores that I checked.
The set that I'm considering for my son is the Snap Circuits Light. I think all of my boys would really love this for playing with while we are camping. Regularly $89.99, it is on sale for $69.99. Chapters Indigo and other stores sell this for about $85.
(Expiry: Unknown)