Skip Hop Zoo Pack Backpack in Dinosaur Only $12.97 @ Amazon.ca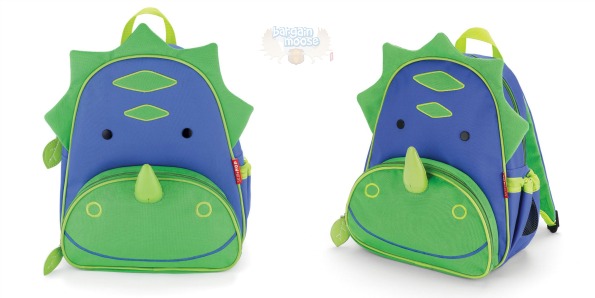 The Skip Hop Zoo Pack Backpacks are really popular for younger kids as they look like different animals, are bright and colourful, and they are fully functional as backpacks for school. Amazon Canada has discounted the Skip Hop Zoo Pack Little Kid Backpack in Dinosaur from $25 to just $12.97.
You will see many other designs available, but only the dinosaur style is priced below $20. All other designs range from $20 to $25 on Amazon.ca. I price compared this backpack with several other online stores to ensure that you are getting the best deal:
$15.95 @ Chapters Indigo Canada
$24.95 @ Safety Superstore Canada
$24.99 @ Lusso Baby Canada
$24.99 @ Bed, Bath & Beyond Canada
Now, the backpack price does not include free shipping but it would not include free shipping at any of these other places either. Thankfully, Amazon Canada has a very low free shipping minimum - only $25 - so reaching that should not be a problem if your wish list is anything like mine.
The backpack contains an insulated pouch for snacks, a large main compartment, and an easy to clean lining for nasty spills. There is also a write-on nametag inside so your child (and you) knows whose backpack belongs to whom.  Padded straps help keep young shoulders comfortable, as this backpack is suited for those three years old and up.
Overwhelmingly, parents are pleased with their purchase. Here are a few reviews:
I bought this for my son for daycare and it's the perfect size for him! It's so cute, we even bought the matching lunch bag. Will be getting one for my other child as well, just need to decided on which animal because they're all so adorable!
and...
It is small compared to a regular backpack but I'm putting it on my toddler so I sure hope so! We use it for daycare. Have owned for 2+ years. No problems with quality. Would recommend and buy again for friends and future children.
This is definitely a backpack for young children; it is not designed for tweens or teenagers. It will be small, but as the reviewer above said, that is what you want for a child that size anyway. I think all the faces of the backpacks are quote adorable. The dinosaur one will make a great backpack for any child who pretends they are T-rex!
Quantities are limited; hopefully you will still be able to order at this price once the bag is no longer in stock.
(Expiry: Unknown)