Shutterfly: Free Photo Book When You Pay For Shipping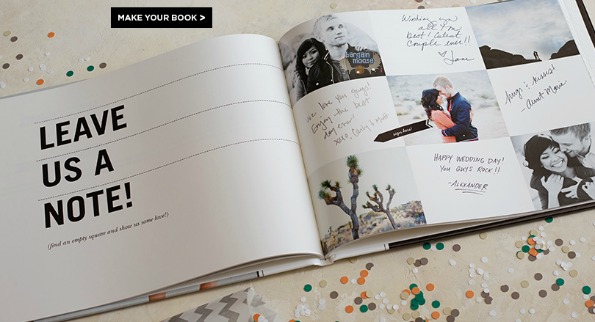 Go to Facebook, like Shutterfly, and you'll get a free 20-page 8x11 hard cover photo book and you'll just have to pay the shipping.
Once you like them, you'll have to enter in a few details to get a promo code to order your free book. It asks for your wedding date, but really, you could put in any date. Shutterfly is advertising this is a free wedding guest book, but it doesn't have to be - you can make it into whatever type of photo book you want. You can even get a larger book and you'll get a credit for the cost of the 8x11 book on your order of the larger book. You can add anything you want to the book, including pages or embellishments that aren't included. You can make the book at Shutterfly or through their app on iPad.
I've made a number of Shutterfly books before and although they ship from the U.S., I keep coming back to them as I love the quality of the books, the choices for design, the prices and the ease of use of the software. I have never been charged duties when ordering from Shutterfly, but that doesn't mean you won't. Also note that all prices are in U.S. dollars when you are adding anything to your book. I personally find 20 pages is never enough, but the price per page is affordable.
I love the idea of making this into a guest book, as it is an important keepsake you'll cherish forever. Add your engagement photos and photos from your dating years, then leave room for guests to sign well wishes. This is much nicer than a traditional book! I was at a wedding recently that did this and I loved having a look through at all their photos.
Shipping will depend where you live but I see that it is between $6 and $9, which is terrific since the book itself is worth about $24.99.
(Expiry: 5th July 2014)