Shopping Channel Canada: 50% Off Pearl Jewellery Set - Now $64.50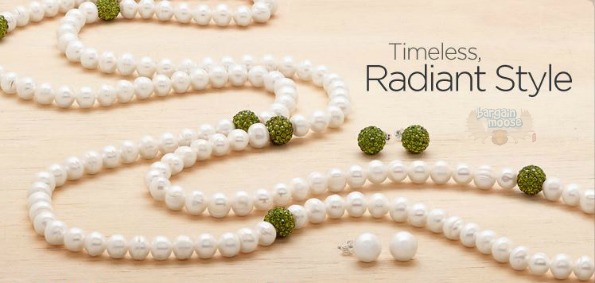 I love pearls! If you do too you will want to check out the Shopping Channel's daily showstopper today. It started at 10pm tonight and goes until 10pm tomorrow (Wednesday), so not much time! Originally $119.99, get 50% off a Pearl Lustre 48'' Freshwater Pearl and Crystal Fire Ball Necklace with two pairs of stud earrings - now only $64.50.
This is a real showstopper piece. It is really long, so you can wear it in a knot or double it up around your neck to show two strands. It comes with two pairs of stud earrings so you can mix it up a bit as well. One pair of earrings are made of the crystal fireball and the other pair of earrings are pearl.
You also have colour choices. The necklace comes in:
The peals are round in shape and around 6-8mm in size. If you need more volume, you can arrange the necklace in different ways to achieve the look you want.
You do have to pay for shipping, which is $6.96. This is a short lived deal so get it while you have the chance!
(Expiry: 14th August 2013 @ 10 PM)