Shoppers Drug Mart Tim Card April 24-26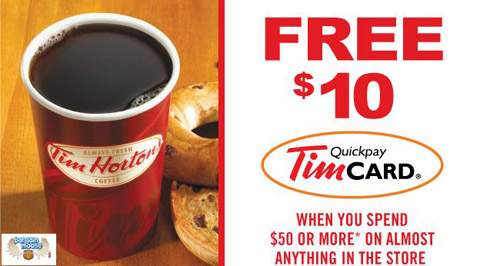 When you spend $50 or more at Shoppers Drug Mart this weekend, you get a $10 Tim Card!
With your minimum purchase of $50 you will receive a $10 Tim Card to use towards your next Tim Horton's visit. Almost everything in the store could be put toward the the $50 eligible for the gift card with your purchase. Items excluded include stamps, lottery tickets, event tickets, electronic gift cards, Life Experience packages, and pre-paid phone cards. Tim Cards will only be given away at Shoppers this Saturday April 24 to Monday April 26.
This offer is definitely my perfect combination of daily essentials, health and beauty products plus coffee and baked goods.