Shopper's Drug Mart: $20 Boston Pizza Gift Card With $75 Purchase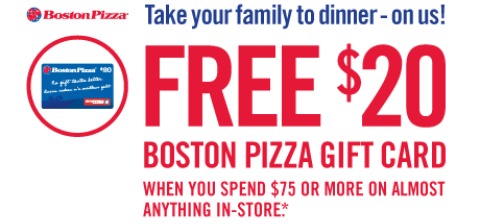 Spend $75 on almost anything at Shopper's Drug Mart and get a $20 gift card from Boston Pizza! This promo starts on 19 February 2011 and runs until 21 February 2011.
If you enter your gift card number online, you'll be entered into a draw for 2 free kid's meals every month for a year! Click here to enter! You'll need your BP gift card number to enter.
I love my Shopper's Drug Mart and don't find it hard to spend $75. The bonus gift cards are always a nice treat!