Shoppers Drug Mart: $10 iTunes Voucher with $50 Spend (In-Store) (EXPIRED)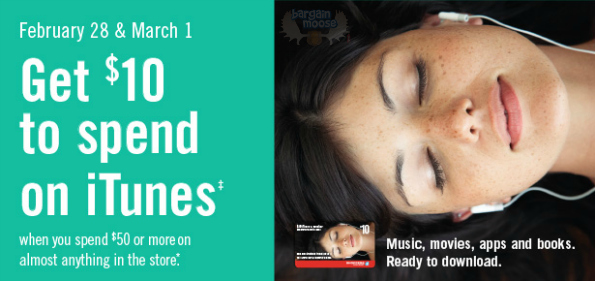 Shoppers Drug Mart has a really cool promotion in store this weekend that I wanted to highlight. Spend $50 or more in store and you will receive a promotional card for $10 worth to spend at iTunes. The promotion runs the 28th February to the 1st of March - two days only.
The promotional card will have a code on it that you must redeem right here by the 22nd of March 2015. When you redeem your promo card code, then you will be given a $10 iTunes e-voucher. This is a digital version of an iTunes card so you can redeem it at the iTunes store on whatever you like.
Quantities are limited, that is why I am blogging this deal a day early. Often when Shoppers Drug Mart gives away $10 cards, they have a $75 minimum (sometimes $50), and the gift card tends to be for Tim Hortons or some other consumable good. I like this deal because the minimum is reasonable and you receive 20% of the value of your purchase back in credit for iTunes.
In addition, while iTunes is a digital world, you still get something you can keep instead of just to consume. If you buy an album or a movie from iTunes, then you can enjoy it the rest of your life instead of just drinking the credit away. I buy a ton of music on iTunes (in fact, I have bought five songs and an album this week), so this is my kind of promotion.
It is easy to spend $50 at Shopper Drug mart. Often they are the cheapest place to buy milk (according to my partner), and with their combination of basic food necessities, chocolate, vitamins, and personal care it is easy to spend $50.
On iTunes, there are always great albums and more to spend credit on. I was just looking yesterday, and found some good deals.
Guardians of the Galaxy Soundtrack - $6.99
Frozen Soundtrack - $6.99
Dark Side of The Moon (Pink Floyd) - $7.99
Ghost Stories (ColdPlay) - $7.99
Dark Side of the Moon is a legendary Pink Floyd album that I am about to purchase. I have listened to Ghost stories by Coldplay. It is a solid album, but just not my type. Both the Guardians of the Galaxy and the Frozen soundtrack are quite popular right now and at a great price.
(Expiry: 1st March 2015)