Shop.ca: Get a $25 Credit Off a $100 Spend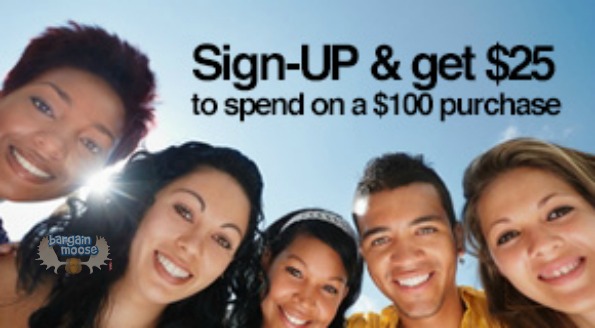 If you've never shopped at Shop.ca, you don't know what you are missing. They have all the big name brands, great sales and it is super easy to shop. You also get free shipping! As a new member you'll get a $25 credit off your first $100 spend. That's a great deal considering you don't have to do anything to get it! If you already are a member, consider having a spouse or a friend sign up for a new account for you so you can possibly get another $25 credit.
If you invite a friend and they make a $75 purchase, you also get another $25 off credit. All you have to do is tell a friend how great Shop.ca is, by sharing it on your social media. I would think you'd want to do it for free, but hey, another $25 is a great incentive.
You can easily shop for anything at Shop.ca, by searching by store or by department. Want a guitar? They've got those, cheap! How about a digital SLR camera? Yup, they have those too.
One of the great sales they have right now is buy one, get one 50% off denim! They have all the top names in jeans like Guess, Bench and Silver, already at a discounted price. You could buy two pairs of $100 jeans for $124.96 with all the deals and credits applied!
Since they ship from Canada, you are also not dinged with duties or tariffs and your shipping should be fast and simple.
Check out all the great coupon codes that we post at Bargainmoose for Shop.ca too. You could score some amazing deals!