Shop.ca: Double Ice Cream Maker Only $40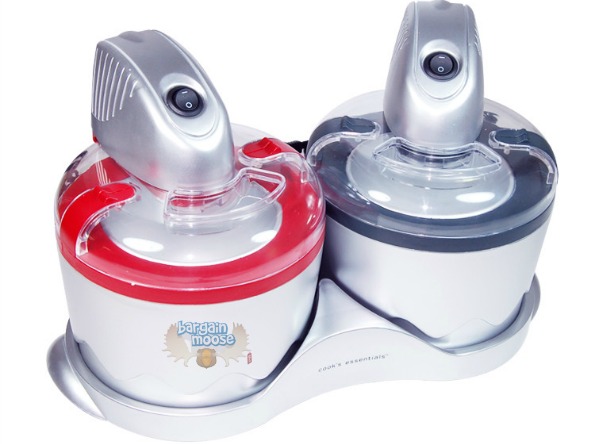 Get the Cooks Essentials 1.5L double ice cream maker from Shop.ca for only $40, was $89.99.
There are so many yummy recipes for fresh ice cream out there. My Pinterest deserts folder is full of three ingredient ice cream recipes that I would love to make. This ice cream maker is an awesome deal, as I spent nearly that much on my single one. With a double barrel design, you can make two flavours at the same time! You know why this feature is good? No fighting! And by no fighting I mean me with the kids, not the kids with each other. I'm all about the exotic flavours and my kids are mostly chocolate and vanilla people. With just the ability to make one flavour I know I would get the shaft every time. You make up to 1.5 quarts in as little as 50 minutes. Not just ice cream, you can make frozen yogurt, gelato, sorbet or even frozen drinks. You don't need separate machines for this!
The reviews on this machine are great including this one that said:
good
...and this one that elaborated a little more:
If you are like me and long for that extra scoop of ice cream on those hot, hazy summer days, then look no further- This double barrel design, 1.5 qt ice cream maker allows you to make two different flavours at the same time. In as little as 50 minutes you'll be enjoying fresh, home made ice cream, frozen yogurt, gelato, sorbet, or frozen drinks. So on those very hot days, you can enjoy two scoops, three scoops or even four scoops.
Shipping is free!
(Expiry: Unknown)