Shop.ca: Cuisinart Mini Prep Processor Was $55 | Now $39 & Free Shipping (EXPIRED)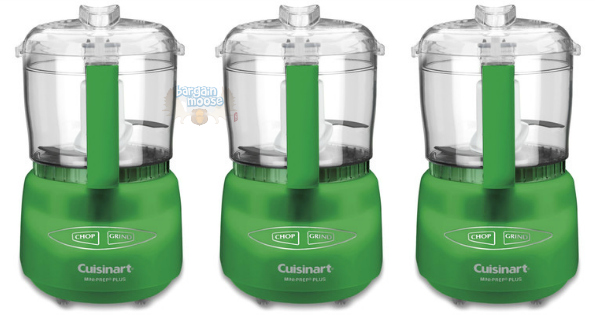 If you are in the market for a mini food processor, then we have a great deal for you. The Cuisinart Mini Prep Processor is on sale from $54.99 down to $38.99, in the citrus lime colourway. Only this colour is on sale. All orders at Shop.ca come with free shipping.
I price compared this processor with other retailers. The Source Canada currently has a couple colours on sale for $39.99, but they are already out of stock (and the deal just started today). That was quick. Staples has the mini prep priced at $49.99 (also out of stock), and Amazon sells the white one for $46.40. Shop.ca sells all the other colours, excluding this green, for $54.99 right now. The Bay Canada does not sell this model, but they had a 4-cup model on sale for $48.74.
This little food processor is perfect for people who rarely use food processor or who live on their own / as a couple where food volume is less. I adore this little processor as its small size makes it apartment friendly. I do not know about you, but I have way too many appliances to actually fit on the counters of my small galley kitchen.

This food processor has many redeeming features. The food processor will chop or grind at the touch of the button. There are only two buttons - so use is very intuitive. There is also an auto-reversing SmartPower blade feature. The bowl can hold up to three cups of ingredients and all the parts are dishwasher-safe. Just take everything apart, run it through the dishwasher, and reassemble.
This is a funky little food processor. Usually, we use the food processor to shred potatoes and onions for casseroles, occasionally shred cheese, and refine breadcrumbs from large chunks into finer powder. The last use is probably the most frequent as I bake (at a low temperature) any old bread to dry it out. Once dried, the food processor is handy for turning the dried bread into crumbs. This is one of the ways that I try to reduce waste in my household.
Now, Shop.ca still has some active $20 off $50 coupon codes. Add $11.01 more to your cart and use one of these Facebook vouchers to save $20. That makes the mini food processor even cheaper!
(Expiry: Unknown)