Shop.ca: Bench Apparel Up To 63% Off PLUS Additional 40% Off Reduced Merchandise + Free Shipping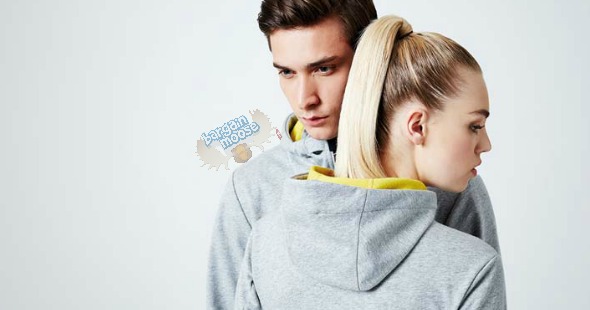 There is something about Bench clothing that I am addicted to, and it is definitely not the price tags. Bench Canada has a higher price bracket on their clothing, which is why I love to watch for great deals and promotions. Right now you can shop at Shop.ca and get a great discount on Bench clothing. You will receive an additional 40% off already reduced merchandise, which is fabulous considering some items are already on sale for up to 63% off the regular price. Shop.ca offers free shipping & free returns as well.
I tried to pick just one item to blog about here, for more of a focus. The problem is that there are too many good deals on Bench clothing during this Shop.ca promotion. I couldn't pick just one! So, ladies and gentlemen, start browsing. I am sure these offers won't last long.
The Bench Rising B Sweat jacket in Jet Black Marl was originally price at $119. It is on sale for $69.99, but with the additional 40% off you will be left paying just $41.99. This jacket is available in medium, large and extra-large at this time. I find Bench fits a little odd. Where I would normally be a small, I usually order a medium from Bench Canada.
The Bench Convexed Zip Thru Hoody is also a hot buy right now. All sizes are available in this trendy dark-purple jacket. It was originally on sale from $129 down to $69.99. Again after applying your 40% discount in your cart on Shop.ca, you will be left paying just $41.99. I love the design of the zipper combined with this rich colour. I added this one to my shopping cart. You can't beat that price, for sure.
For the guys, this Bench Merevale Overhead Hoody is on sale for a great price too. The price started at $109 and went down to $54.99. While that price already sounds good, you will be amazed that the price drops down to just $32.99. Shop.ca ships fast enough that this might even make a fabulous Father's Day gift, among the other men's items available in the Bench store on Shop.ca.
Shop.ca also offers free shipping with no minimum purchase. Actually, they even offer free returns. If you are not happy with the product or the sizing, you can send it back at no cost for you. That makes up for not being able to try on the merchandise before making your purchase.
(Expiry: 8th June 2015 @ 12 AM EST)