Shop.ca: $60 Off Staub Grill Pan Now $89.99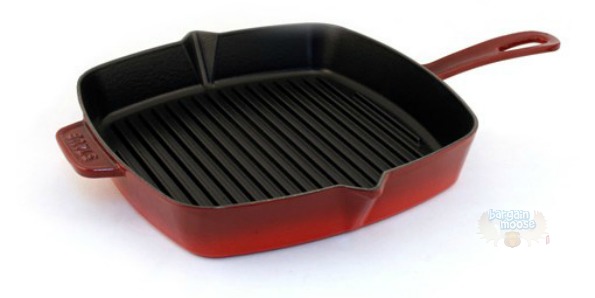 Shop.ca is selling the Staub Cast Iron Grill Pan that was $160 for only $99.99.  Even better, when you use our exclusive coupon code MOOSE2014 that Eva blogged about here, you will get this lovely grill pan for only $89.99 with free shipping.
There is really something different about cooking with cast iron. I own both a cast iron sauce pan and a cast iron covered casserole dish for the oven. I love making roasted chicken in the big cast iron pot and using the sauce pan for sauces, soups, melting chocolate, and much more.
I have been eying up a grip pan for a while because I don't have access to a BBQ at the moment and I like when meat is cooked on a grill. I especially like grilling things like fish in a cast iron pan and I know this one would get well used in my house. It reminds me of camping trips with freshly caught fish cooked in our camping cast iron frying pan over the outdoor fire. Yummy.
I price compared with the few places I could find this pan and there were not many. The closest I found was a place selling it for $99.99 and then charging $15 shipping. This is certainly a good deal from Shop.ca.
(Expiry: Unknown)