Shop.ca: 40% Off HS Sweden 20 Pair Socks Bundle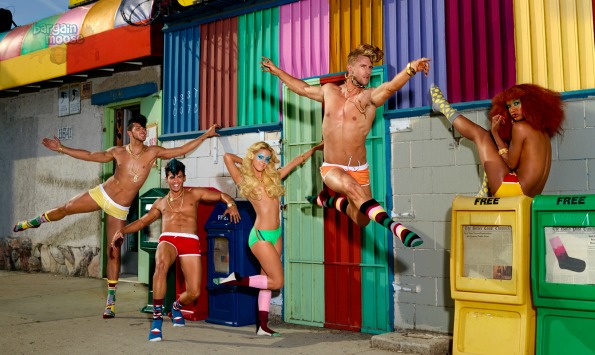 Shop.ca has the most interesting deal on socks these days. Pick up a bundle of 20 pairs of quality Swedish designed socks (made in Turkey) for 40% off. The bundle is on sale from $260 down to $155.
You might be looking at that price and thinking that is a lot of money for socks. Well, let me break it down a bit for you. HS Sweden themselves sells each pair of their socks for $13 a pair. You take $13 and times that by 20 pairs and you are looking at $260 on the nose. Now, if you just bought a few pairs at a time you might not think that $13 a pair is so bad for high quality (non-sweat shop) socks... or you might still think it is expensive.
Either way, this bundle at Shop.ca saves you 40% off the original price of the socks. Instead of paying $13 a pair, it works out to only $7.75 a pair, which I, for one, am willing to pay any day.
Now, the pictures in the offer are only to reference the glory of HS socks. You will get a range of patterns that might include the craziest abstract thing you can imagine to dots to stripes to colour blocking. This bundle is designed for men, so it will fit men's feet sizes 8-12 comfortably. If you are a woman sporting size 10 or larger feet, these socks should also fit you comfortably.
I am pretty well known as the HS lover around here as I only own an entire drawer full of them. They also last me an incredibly long time... it is so rare to find a hole.  That also means I really have not needed to buy any more socks in such a long time, which also sucks because HS comes out with such fantastic patterns that I can barely resist putting in a small order. However, my overflowing sock drawer and my backup stash of socks keep me firmly in line.
I think HS Sweden socks make a great gift with Father's Day coming up. It is a rather large bundle so you might consider splitting it up among the men in your life. Give a bunch to your father, to your husband, or to any other father figure in your life (grandfather, uncle, brother, etc!).
As per usual, all orders at Shop.ca ship free. Right now, the first order of $99+ you place after adding your Aeroplan card to your account will also receive a bonus 800 points.
(Expiry: Unknown)