Self-Balancing Scooters? Swegways? What's the Hype & Where Can You Buy in Canada?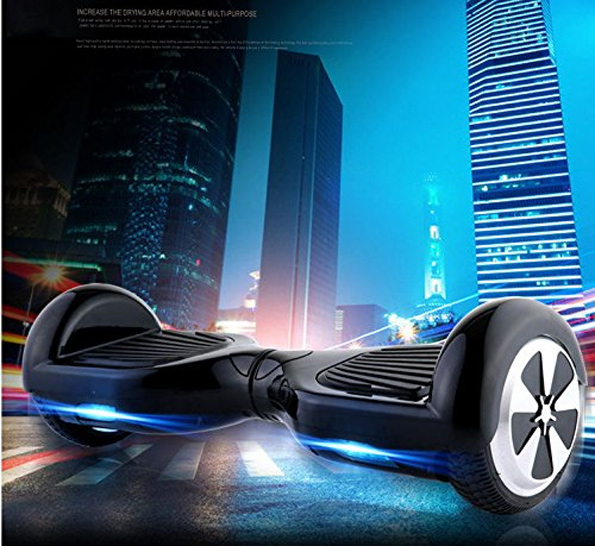 Since the middle of the summer, a cool little device has been taking the world by storm. These devices are called many things; swegways, self-balancing scooters, hoverboards and more interesting names. They're like segways, but with no handlebars. There are a hundred different brands to choose from as they have been flooding the market, but they've not properly reached the mainstream in Canada yet. However, I am sure that they are on a few Christmas lists and there are ways to buy them now, so I thought I'd write a little about them.
Amazon Deals
My first port of call on my search for Canadian stores selling self-balancing scooters is of course, Amazon.ca. That link sends you to a search page of ONLY Amazon products – none of those shown are third party Chinese sellers. There's a reason for that which I will explain below. Prices start at $356.08 for this Kobe model, and it's in a black finish for that price (click the "5 new" on that listing to see the Amazon price). To be honest, that's a very low price and the lowest that I have seen yet. However, Amazon says that this one is temporarily out of stock. When I had a live chat with a sales rep, they couldn't state a date of arrival and whether it would arrive in time for Christmas. If you're in no big rush to get it, then this could be a good one to go for – then just wait and see when Amazon updates you with the shipping date.
On that same Amazon page for the Kobe Self Balancing Scooter, there is a marketplace seller which is based in BC, Canada, selling this same scooter for $417.87 including shipping – this could be an option to go for if you want it NOW – as it is in stock and available to order.
eBay Deals
eBay is such a well-known marketplace, they're bound to have sellers offering these swegways! And they do – here is a search for them. Now, I've limited that search to sellers ONLY from within Canada so you can see what's in stock and available.
One of the lowest prices I can see from a reputable eBay seller is this Electric Hover Board Self Balancing Smart Scooter which is priced at around $385 including shipping, and it comes from Ontario. The delivery is estimated between 3 and 4 weeks, so that means you'd have it for Christmas. The eBay seller has 5311 feedback with a 99.7% positive rating, so that's a very good bet indeed.
NCIX Deals
I've spotted an Easygo Smart Self Balancing Electric Scooter over at NCIX Canada, and it's in stock and ready to buy NOW. You can pick this one up for $559 there. They do state that there are only a few left in stock though.
Chapters Deals
Chapters are selling the iRover model, it's called the iRover Self-Balancing Scooter HoverBoard and it comes in a black finish. It's in stock online but it's pricey - $799.95. It doesn't come with free shipping though! Boo!!!
Toys R Us Deals
I've just spotted that Toys R Us have a couple of these for sale! From the sound of it, they're in stock and shipping NOW – but would you really want to pay $949.99 for one!? That's a bit much, dudes.
Ordering from Abroad
You can order this type of thing from Aliexpress, Alibaba and other Asia-based marketplaces at a discounted price but I'd be very wary of doing this. There have been quite a few reports coming out of the UK about shoddy workmanship and dangerous power issues on some of the Asia based sellers. For example, this article in the Mirror shows one that caught fire while charging. You really don't want that happening on Christmas Eve!
Final Thoughts
If you have someone that SERIOUSLY wants one of these self-balancing scooters for Christmas, it's likely you're going to be paying a bit of a premium from a Canadian seller, just to order it and have it guaranteed in time for Christmas.
Have you seen these for sale anywhere else yet?