Save on Gift Cards @ Shoppers Drug Mart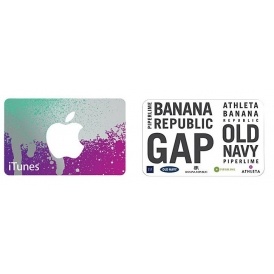 Just a reminder - this offer is now available!
I was flipping through the Shoppers Drug Mart flyer and realized something pretty awesome about their upcoming sales. From March 19th through March 25th you can head into your local Shoppers Drug Mart and save 10 - 20% on gift cards. These offers are usually immensely popular, and the offer will be available while supplies last. Sometimes they even limit how many gift cards can be purchased per person.
So the discounts vary between 10% off and 20% off depending on which gift cards you are in the market for. This is a great opportunity to get some discounts on gift cards for your favourite stores, or even to save a few bucks on gifts for upcoming birthdays.
If you are looking for gift cards to use at Old Navy, Gap or Banana Republic then you can pick one up during this promotion and get 20% off gift cards valued at $25 or $50. We all know how wonderful the sales are at these retailers, so hold onto those gift cards until you can score a discount.
Everyone need iTunes cards at one point or another, and during this Shoppers Drug Mart promotion you can get 10% off iTunes gift cards that are of $50 or $100 value. Both of these promotions run at the same time, and unfortunately you cannot collect Optimum points with these purchase. Offer is valid in-stores only.
(Expiry: 25th March 2016)