Sale 4 The Day: 71% Off A Boombox 2 Powered Speakers w/ iPod Dock & FM Radio (expired)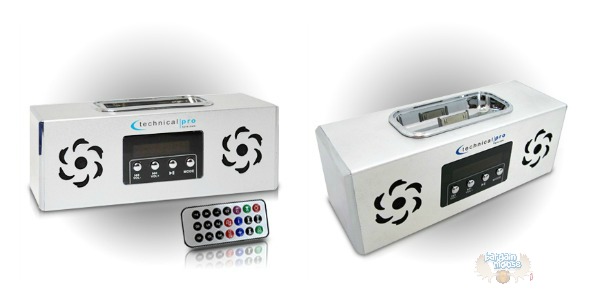 Sale 4 The Day has offered a Boombox 2 powered speakers with iPod dock and FM radio for only $26.99 (71% off regular price).  This sale will be valid until December 18th 2012 or while supplies last.
What a great idea; you can take this anywhere as it has a built in lithium-ion rechargeable battery. I don't know about you, but my kids have always loved to have their music with them no matter where they go.  So many times we have gone to a beach or park, or even an outdoor BBQ and fire and we've had to use one of the vehicles for our music.
This Boombox is lightweight and compact with USB flash drive, TF Card, iPod dock (MP3) and FM tune scanner.  You can charge your iPod when USB charging cable is connected and the battery itself, fully charges in 3 to 4 hours.  The set includes a remote control with Next, previous track, play and pause controls.
You get the Boombox which is only 6" wide X 2.25" h X 2", the remote control, a lithium rechargeable battery, a USB cable and a patch cable for connecting other devices.
Shipping: $4.99
(Expiry: 17th December 2012)