Roots Canada: Free Roots Messenger Bag With Purchase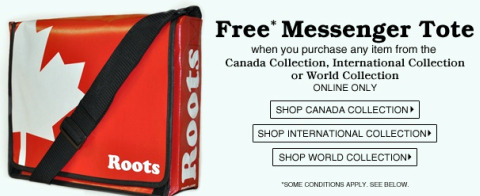 Roots Canada is offering a free Roots Messenger Bag when you buy a Canada, International or World collection item. This is an online only offer, and of course only while supplies last. I just added a Canadian collection item to my cart and it auto added one of these, so they seem to still have them currently!
I don't own anything from Roots yet but I have great plans to get one of their 'thumb-hole' hoodies in the future. Like this one from the Canadian collection has thumb holes, and is very stylish.. I like the maple leaf on the hood! It's a nice touch.
Oh, a funny thing: I put this Reversible Shipping Tote for only $5.95 (so cute!) in my shopping bag and it added the free messenger tote as well. I might have just found the cheapest item you can buy and get the messenger bag with!