Red KitchenAid Custom Stand Mixer Was $480 now $200 @ Amazon.ca!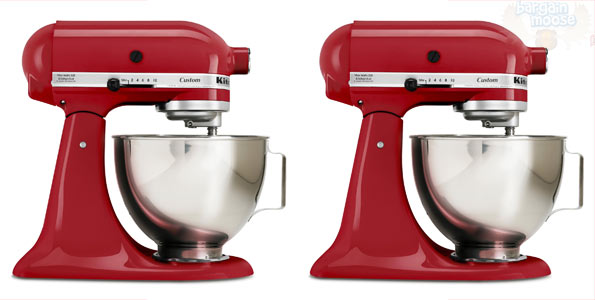 If you'd like to get your grubby paws on a shiny new red Kitchenaid stand mixer, you can get a super deal on the KSM120ER on Amazon Canada just now - it is down from $479.99 to only $199.99, and that's with free super saver shipping too!
I must say, I love the look of these Kitchenaid stand mixers. I really want one, but I don't quite have the room in my kitchen just now! I know I would use it at least once a week, so that would definitely justify the cost, and I know they're a really reliable brand too.
In googling for reviews of the KSM120ER KitchenAid Custom Stand Mixer, I cannot find much info on this particular model, but there is one review on the Amazon site:
Just got it so far I am baking up a storm watch my hubby's weight go up, everything fits so securley and the bowl stays tight to the base being disabled this is a must, I just love it.
Sounds good!
P.S. I don't usually like to post about the same company twice in one day. I did the earlier post about the beer making kits before I spotted this deal, but really thought that it should go up on the blog too!