Plum: 50 - 70% off Fall/Winter Inventory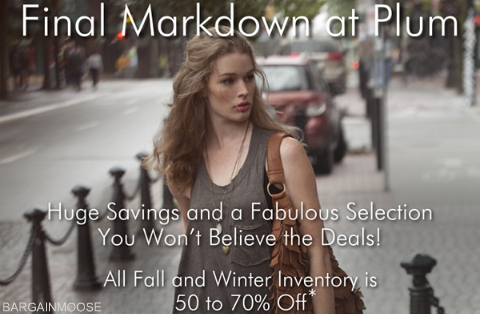 Though Plum does not have a lot of locations in Canada (AB & BC), we like to give them a shout out now and then! Plum is having a final inventory clear out of all their fall and winter clothing, with discounts between 50 - 70% off! If you are lucky to have a Plum near you, be sure to mosie on over to check out this sale. Let me know if you find any goodies!
I really hope Plum expands, either in number of stores or by allowing shopping online. Just from looking at their website I tend to enjoy the clothing and would like the opportunity to check out sales like these. Like this Dolman Sleeve Dress that they show as on sale online (but can't buy online) is a great discount! I just want the ability to buy it on their website!