Play-Doh Super Colour Pack Was $22 | Now $12 @ Amazon.ca (EXPIRED)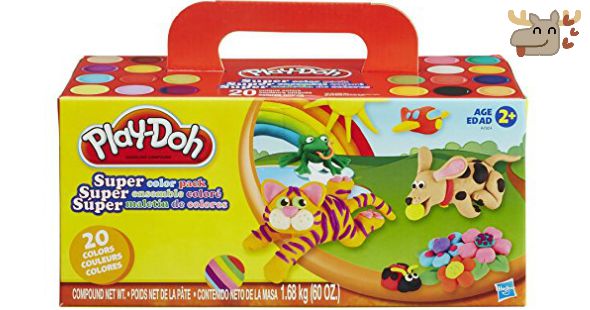 *Bump! This awesome deal is baa-ack! It always sells out quickly so pick up a set now!*
Here comes the cooler weather. You have probably already started your hunt for indoor activities for the kids, and I could bet that your list involves Play-Doh for sure. If you are looking for a great price on Play Doh then check out this offer from Amazon Canada. For a limited time you can snag this Play Doh Super Colour Pack on sale for 50% off, which leaves you paying just $11.47 for 20 colours. Spend $25 to get free shipping. If you were thinking about picking up some of the Play-Doh Play Sets that Eva blogged earlier, then this would be a great additional item. Christmas is just around the corner essentially too!
Play Doh is great. Your kids will be able to use their full imagination building animals, houses, food and more. The best part is that you can clean it all up and put it back in the container to be uses over and over again. This Play Doh Super Colour Pack comes with 20 different colours of Play-Doh. While this set would have normally costs $21.99, right now you can snag it for just $11.47 which means you are paying less than $0.60 per tub of Play Doh.
The colours shown on the box are what you'll get. There looks to be a good variety of different shades of different colours, so you should be able to make lots of combinations. I always enjoyed making flowers and houses while my 2 and a half year old son would rather make tigers or fire trucks. It is awesome to see their imagination come to life when they start building with Play-Doh. You really can't go wrong with this price either. Last time this set was on sale for a similar price it didn't last very long, so I would venture to guess that this deal will sell out rather quickly as well.
There are a few other Play-Doh sets on sale for 50% off as well, if you are wanting to reach the free shipping minimum spend threshold. Take a look at the other options available from Amazon.ca:
Amazon.ca offers free shipping on all orders over $25, so perhaps you want to grab a few of these Play Doh Super Colour Packs or other Play Doh sets to reach that minimum spend. They are all available at pretty good prices, and chances are your child is going to want some molds or Play-Doh tools to really enjoy their new pack of 20 colours of Play Doh, right?
(Expiry: Unknown)