Photobook Canada: 40% Off Coupon Code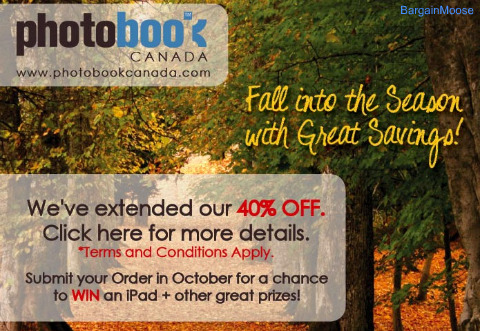 Photobook Canada has extended their 40% off promotion and come out with a new coupon code for October! I'm not sure when the promotion ends now (but I am guessing October 31/10), so if you are in the market for a quality made photo book, this company has got decent reviews!
For your discount:
Coupon Code: 2010OCT40
Discount: 40%
Terms and Conditions: Click here
If you got the groupon for them a while a go this cannot be combined with it (unfortunately) and if you missed out on the groupon this is still a very nice discount.
I have quoted Mooser Lisa before, but i love what she has to say, so here goes again!
I have ordered from Photobook Canada before — I chose them over other services like blurb because they are Canadian. I was also able to take advantage of a discount offer, so the price wasn't bad and I was very impressed with the quality. I wasn't sure how my full-page photos were going to turn out, but the result was beautiful. It took some time (maybe a few weeks) for the book to arrive, but it was well worth the wait.
Oh ya, and anyone who orders a photo book in October gets entered to win an iPad or a large de-bossed photo book. Sweet!