Perfect Gifts For Grads From $3 After 30% Off @ Chapters Indigo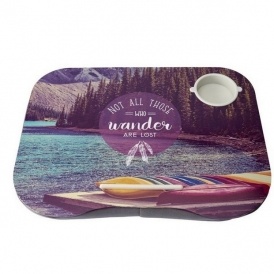 All across Canada, graduation ceremonies are springing up in honour of such an achievement for the young women and men who are starting a new journey in their lives.
I had been looking on-line for some time, for a suitable graduation gift for our friend's son, and was pleased to discover that Chapters Indigo has a nice selection of gifts suitable to present to your favourite graduate, whether it be for a high school, college, or university graduation.
A lapdesk with an inspiring theme makes for an often used gift. This is on sale for $20.65, down from $29.50. It has a cup holder, and is helpful for keeping laptops cool.
For only $3.15 down from $4.50, you really can't go wrong with slipping this set of 3 Magnetic Page Markers into a card of congratulations for a recent graduate. The pictures on these bookmarks are gorgeous! One of the magnetic page markers appropriately states for the recent graduate, "And so the Adventure begins." Another one displays a message that "Not all those who wander are lost." And finally, the third one holds a quote that is worthwhile to think of each day - "Enjoy the journey."
You can purchase a 192 page lined journal for your pensive graduate who may want to start journaling their life experiences. This Large Button Closure Journal - Adventure Begins is priced at $11.86, down from $16.95. It's a beautiful keepsake gift that your graduate will cherish. There are two other journals in the same theme as the above mentioned magnetic page markers.
You will find a lot more gifts in the first link above, but these ones highlighted are the ones that stood out to me as being especially meaningful for those about to start a new chapter in their lives!
Don't forget to take a look at Chapters Indigo's recent promotion - if you spend over $40, you may purchase a weekender bag for $34.50, and it has a retail value of $59.50. The large bag is available in 3 different colours.
Shipping is free on orders over $25, or you can select in-store pickup for free, with no minimum purchase required! Otherwise, shipping will start at around $7 or so.
(Deal expiry: June 12, 2016)