Ototo Nessie Soup Ladle From $2.35 & Free Shipping @ Amazon.ca!! *HOT*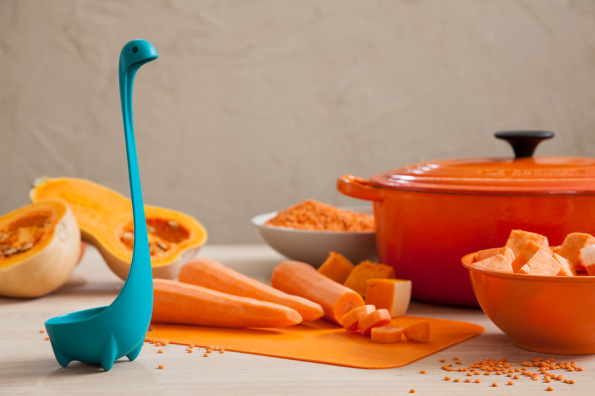 *BUMP! This offer is back at a smokin' hot price!*
If you've got a friend who loves to cook and need a fun gift for him or her, check out the Ototo Nessie soup ladle. This very cute ladle is regularly $34.95, but is selling for only $2.99 with free shipping from a secondary seller on Amazon. If you don't mind purple, then you can get that option instead for just $2.35. That is a whopping 91% off, and it is the season for soup and stew making! When soup may be on the menu quite a bit,  this little ladle will just add to the fun of making all those delicious fall soups.
I love how this little Nessie (the Loch Ness monster) stands on its own so you don't have to lay it down somewhere and I love how it stands in the soup pot too!While I had not heard of the Ototo brand, I looked it up and realized they sell some fun and quality items. They don't actually sell on that site, so it is great to have a marketplace like Amazon to get these great gift ideas.
Made from BPA free food safe toughened nylon, it can withstand the heat of your soup or other beverage and will do just fine in the dishwasher.
Blue is the colour available on Amazon that is only $.99, but if you really need another colour, I see them selling for various prices here on Amazon. The purple is $2.35, and the yellow is $4,98. But in my opinion, the blue is the absolute cutest.
Reviews vary on Amazon, with saying its good for a laugh but that it can be a little flimsy. I'm assuming this mean it doesn't stand up to your Good Grips ladle.
I couldn't really find this product selling at any other Canadian store, but in the U.S. it sells for around $15 plus all the shipping costs to get it here. Amazon's price is really the best you are going to get. Plus, this offer includes free shipping so you really can't beat that!
(Expiry: Unknown)