Newborn Rubies Superman/Supergirl Romper was $30 now $11 @ Amazon.ca! (EXPIRED)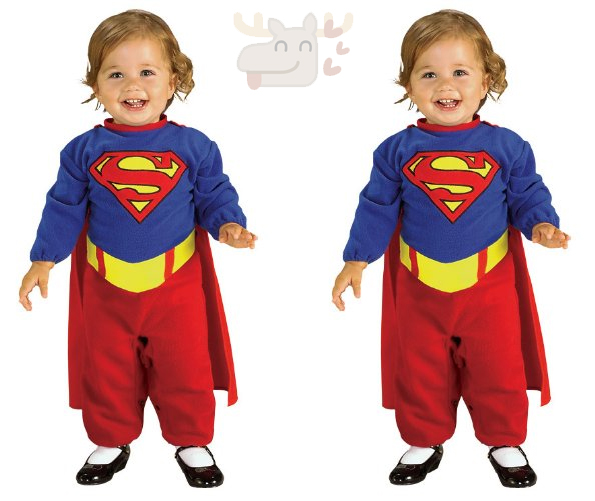 There's nothing cuter than dressing a newborn baby up in an amazing Halloween costume. If you are expecting soon or know someone who is, then check out this deal on the cutest little Superman/Supergirl outfit – it's down from $29.99 to only $11.03 on Amazon Canada just now!!
As most of us are aware, if you have Amazon Prime then you will get this item shipped to your home at no extra cost. But if you don't have Prime, then I would seriously recommend topping your order up to $25 to get free super saver shipping.
The costume they show in the picture above shows a little girl/boy standing up and wearing the Superman/Supergirl costume. But this isn't going to be the case with a newborn – I think the picture is just for illustration purposes. Also, there are no gender specifics on this costume – you could use it for either a boy or a girl. I had a very similar outfit for my daughter when she was 2 to 3 – it was listed as a "Superman" outfit, but there was no reason she could not be Supergirl, when in it.
I googled for newborn Superman costumes to see if I could price compare for you guys – and the results were very positive. A similar outfit on Partycity.ca or Walmart.ca is $25. The same one on Costumesupercentre.ca is also $25. And on Oya Costumes, a baby Superman outfit would cost you $30 or more.
Now, some of you Moosers without kids may be wondering why on earth you would spend eleven bucks on a Halloween outfit for a newborn, who doesn't even know what they are wearing anyway. Well, I've had a few kids, and there have also been quite a lot of recent additions of nieces and nephews too – and we always have an outfit ready for baby's first Halloween! It's a great photo opportunity and there's nothing cuter than a tiny little baby in an amazing Halloween costume like this. My first daughter was a little witch on her first Halloween, and my second daughter was a pea in a pod. Superbaby for the win!!
(Expires: unknown)