Nestle Canada: $10 Gift Card Rebate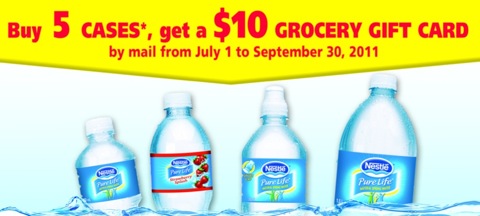 Get a $10 grocery gift card when you buy 5 cases of Nestle Pure Life water between now and the 30th of September, 2011. The five cases of water do not have to be purchased at the same time on the same receipt.
The Nestle Pure Life water that is eligible includes:
Nestle Pure Life Natural Spring Water: 6 x 1.5L, 12 x 330mL, 12 x 500mL or 12 x 710mL
Nestle Pure Life Splash Flavoured Water: 9 x 330mL or 6 x 500mL
You must send in the 5 UPCs, the completed rebate form, a self-addressed postage paid envelope and the original receipts with products identified before 31st October, 2011.
There is a limit of one rebate per household and you should expect your rebate within 4-6 weeks.
Grocery gift cards will be issued for one of the following retailers: Loblaws, Provigo, Zehrs, No Frills, Maxi, Real Canadian Superstore, Real Atlantic Superstore, Fortinos, Valumart, Extra Foods, Metro, Food Basics, Super C, Marche Richelieu, Sobeys, IGA, Foodland, Thrifty Foods, FreshCo, Price Chopper, Walmart, Highland Farms, Zellers, Safeway or Longo's. The  gift card will be issued for the participating retailer that appears on the majority of the receipts submitted.
It doesn't say that you have to purchase the water from one of the above retailers, however, it might be a good idea if you want to get your rebate. Wait for a great sale on water and you could be getting it for free (just like out of the tap :) ). I try not to buy too much bottled water, but there are times when it is just so convenient.
(Expires 30th September, 2011)