Natural 7mm Freshwater Pearl Earrings for $5 Inc Shipping @ Sale4theday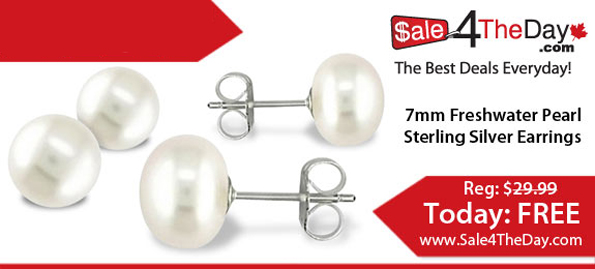 At Sale4theday today, they've got a daily deal on some Natural 7mm Freshwater Pearl Earrings. They're only $0.01!!! The shipping cost is $4.99, so that rounds up to an even $5. Even with the shipping, that's still a decent price for these earrings.
They're quite plain, as pearl earrings would be. But they could be a nice addition to your jewellery box, or a gift for a partner or friend.
Description:
Pure Elegance and Fine Craftsmanship come together with our Natural 7mm Freshwater Pearl Earrings. These Magnificent Freshwater Pearls Sourced from the Finest Freshwater Lakes in the Orient are Mounted on a Sterling Silver Post and Butterfly. Let yourself feel Chic with a New Pair of Beautiful Pearl Earrings. These sophisticated pearl earrings come with an elegant, silky jewelry pouch. Limit of 3 Pairs Per Customer.
The deal is for today only, that's Friday the 13th of July 2012, so if you're interested, place your order as soon as you can. :)
(13th of July 2012)