MOTA 18-in-1 Wallet Ultimate Multitool only $8 & Free Shipping @ nCrowd.ca!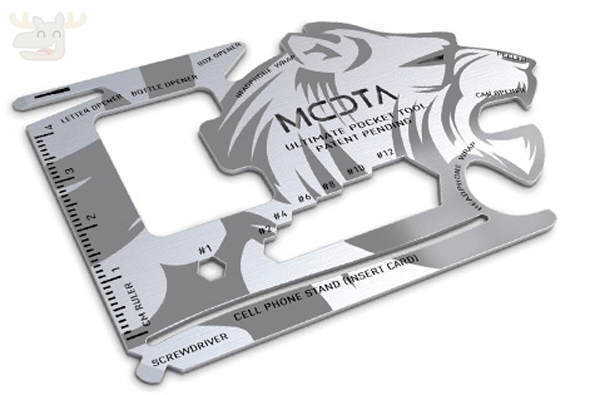 nCrowd.ca, one of the popular daily deals sites in Canada, has quite a number of product deals. They sell everything from underwear to bedding, and many things in between. An interesting item that caught my eye was this MOTA 18-in-1 Wallet Ultimate Multitool, and it's on a 73% discount just now. The retail price is $30 for this multitool, but you can get it for only $8 including shipping from nCrowd!
The MOTA 18-in-1 Wallet Ultimate Multitool is an ideal size for a wallet. These things seem to be mainly targeted at men, but I'd be more than happy to pop one of these in my purse too. They could be very useful.
There are 18 functions, a few of which are:
Inch and centimetre ruler
Bottle, letter, can, and box opener
Fruit peeler
Heads for nuts and bolts & screwdriver
Phone kickstand
Eyeglass repair kit screwdriver
It's that last one which I would find incredibly handy. I wear glasses all the time, and obviously sunglasses when it's sunny. I've lost count of the number of times that one of the little teeny tiny screws has become loose on the glasses, and needs to be tightened up. I have a little screwdriver kit at home, but the screws inevitably become loose when I am away from home. One of these would be handy to keep in the car's glove box.
In terms of prices elsewhere, I cannot find this exact brand for sale anywhere else online in Canada. I CAN find the popular "wallet ninja" though, and it seems to sell for $15 or more on similar sites. I think the MOTA one above is trying to copy the success of the wallet ninja, but it's really quite a cheaper price point.
These could make an excellent little stocking stuffer, an extra little gift!
(Expires: unknown)