LeapFrog Read With Me Scout Was $40 | Now Only $20 (FS on $25) @ Amazon.ca (EXPIRED)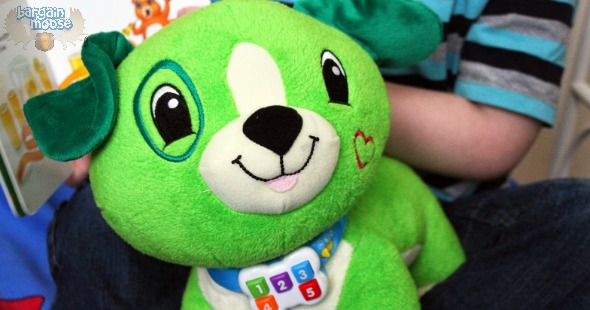 Have you been looking to purchase the LeapFrog Read With Me Scout Toy? They can be quite pricey. You're in luck though. Right now you can get the LeapFrog Read With Me Scout for 50% off the regular price at Amazon.ca. That leaves you paying just $19.98 instead of the regular price of $40. Spend just a few dollars more and you will get free shipping with your $25 purchase too.
You can't get much better than a cuddle reading companion for your little one for just $19.98, especially when the regular price of this LeapFrog Read With Me Scout was $40. This cute little dog will provide the perfect introduction to reading with many ways of interacting with your child throughout the compatible story books. Scout can read from 5 of the included books. Scout will even ask questions to get your little one's mind working throughout the story and understand the story line better.
The books include with Read With Me Scout are:
Let's Go Camping
Let's Find Scout's Toy
Let's Learn About The Weather
Let's Cheer Up Eli
Let's Have A Party
The LeapFrog Read With Me Scout from Amazon Canada features 5 different touch points as well as over 70 different comprehension questions for all 5 of the cute illustrated board books. This is an excellent way to teach vocabulary and comprehension to children up to age 5. I actually notice my niece who is 7, reading along with her 3 year old little brother. So cute.
This LeapFrog Read With Me Scout for just $19.98 has some pretty great reviews on the Amazon website, actually. While you may be wanting the Violet version for your little girl, green is a pretty neutral colour. Scout is not just for little boys. Here is one of the customer reviews that may help your decision with this purchase:
My daughter absolutely adores Scout, ever since she was practically a newborn and was gifted a "My Pal Scout". We were walking through Target and she just fell in love with this toy, and I later bought it here on Amazon.
I did a little price comparison as well, just to make sure that this is the best deal around on this adorable toy. Here's a quick peak at what some other Canadian retailers are selling the LeapFrog Read With Me Scout for:
Unfortunately this item doesn't quite reach the minimum shipping threshold. You will have to spend $25 at Amazon.ca to get free shipping on this purchase.
(Expiry: Unknown)