Laser Pegs 8-in-1 Tank Runner Building Set Was $30 | Now $17 @ Amazon.ca *HOT*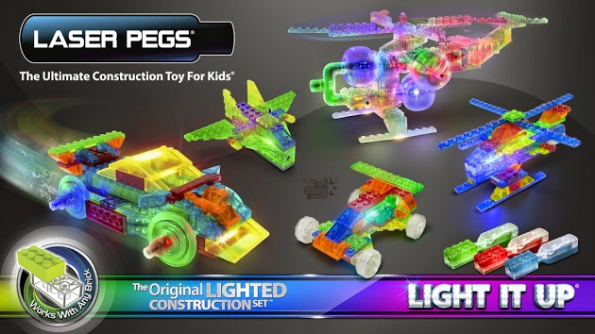 Laser Pegs toys are hot right now and I have found a sweet deal for you. This Laser Pegs 8-in-1 Tank Runner Building Set was $29.99 at Amazon Canada and is now on sale for just $16.58. There are a couple more sets on fantastic discount as well - see the rest of this post. Receive free shipping on orders of $25 or more.
This same building set costs $36.99 @ Toys R Us Canada and $36.99 @ Staples Canada where it is currently out of stock. Laser Pegs building sets are really hot right now as they are constructed of light-up bricks. This tank runner building set will build eight different items and the blocks are compatible with other major construction kits like Mega-Bloks and LEGO.
Your kit will include: two laser pegs, 24 tinted construction bricks, a runner power block with two speed and four light settings, and an instruction manual. You can link multiple runners together with the included hitch. For the tank (or whatever else you build) to light up, you will need three AAA batteries, which are not included.
I wanted to mention two other hots sets that are on sale. This Laser Pegs 12-in-1 Spider Building Set should be a fan favourite because it is a big set with lots of LED blocks. This set includes 15 laser pegs, 148 construction bricks, a triangle power base, peg cord, and instruction manual. The power base on this one is sound activated - totally cool. Originally $49.99, the set is on sale for $35.94. The same set is $59.99 @ Toys R Us and $51.99 @ Staples Canada.

I also wanted to mention this Laser Pegs 8-in-1 Mini Indy Racer Building Set, which was $34.99 and is now $23.99. The same racer costs $39.99 @ Staples Canada and Toys R Us Canada. This set comes with 10 laser pegs, 40 construction bricks, triangle power base, peg cord, and instruction manual.

These prices are HOT because no other company is discounting these toys. I anticipate this brand being a really hot ticket item for children's wish lists come this Christmas because they are Building block sets that GLOW in the dark. You cannot get more awesome than that.
(Expiry: unknown)