KitchenAid 3.5 Cup Chef's Chopper up to 50% Off @ Amazon.ca + Free Shipping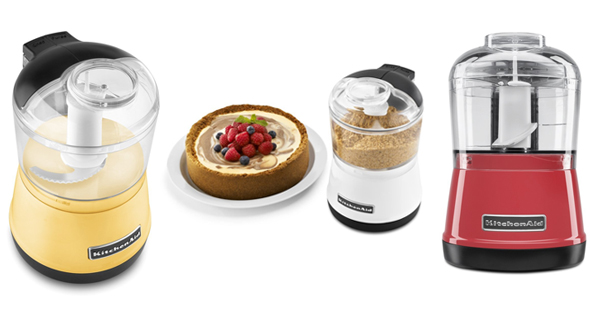 Right now, Amazon.ca has select colours of the KitchenAid 3.5 Cup Chef's Chopper priced at up to 50% off the original cost! The Majestic Yellow and Watermelon colour options are just $39.99, regularly $79.99. And it will ship to your door free of charge.
KitchenAid makes top-of-the-line products for home chefs. Their more flagship products like stand mixers and food processors are not often discounted by such a large amount. In fact, this is the lowest price that Amazon Canada has ever had for this particular food processor.
The 3.5 cup capacity is ideal for single serving sizes, chopping fresh vegetables or pureeing dressings and sauces. The KitchenAid Chef's Chopper features a stainless steel  blade and a compact size making it convenient for everyday use; giving it a small footprint for counter-top storage. The chopper has 2 speed settings: chop and puree, and a no-spill opening on top that allows you to add ingredients while in use. Great for adding some moisture if your recipe appears a bit too dry!
Now, you may notice that these two colours are listed as being Temporarily Out of Stock. But fret not! In Amazon-speak, that means they are expecting more of the item so go ahead and place your order and it will be sent out to you as soon as they get more. I've done this a number of times with Amazon.ca products and I've always found the wait time to be only a day or two longer. Obviously, this will vary by item and situation but they're quite reliable.
If you absolutely cannot stand the pale Majestic Yellow or the red Watermelon colours, they have other choices that are also marked down just not by 50%!
The bright Green Apple colour and chic Contour Silver are each 46% off at $42.99; classic White and bold Boysenberry are 38% off at $49.99. The soft baby Pink is also $49.99 but appears to have had a lower starting price so it's discount is just 29% from $69.99. The trendy Crystal Blue is 28% off at $57.65. Onyx black has been dropped 25%, from $59.99. We have poor sunny Tangerine bringing up the rear with a 13% price drop to $69.59.
Be very careful: a couple of the colours, such as Empire Red and Lavender Cream, have been marked down but the orders are being fulfilled by third-party sellers so you will be charged a handsome fee for shipping. We don't want that!
The KitchenAid 3.5 Cup Chef's Chopper is priced at $79.99 at Sears and Canadian Tire. The Bay appears to have a single colour -- Red -- on sale for $54.00. The best price I could find was at Bed Bath & Beyond Canada. They've got most of the colours featured at Amazon.ca priced at $49.99 but your order will not ship for free unless you bump it up over $99. Amazon Canada will ship an individual chopper to you free of charge.
(Expires: Unknown)