Kidz Delight Smooth Touch Smart Phone was $22 now $9.44 @ Amazon.ca!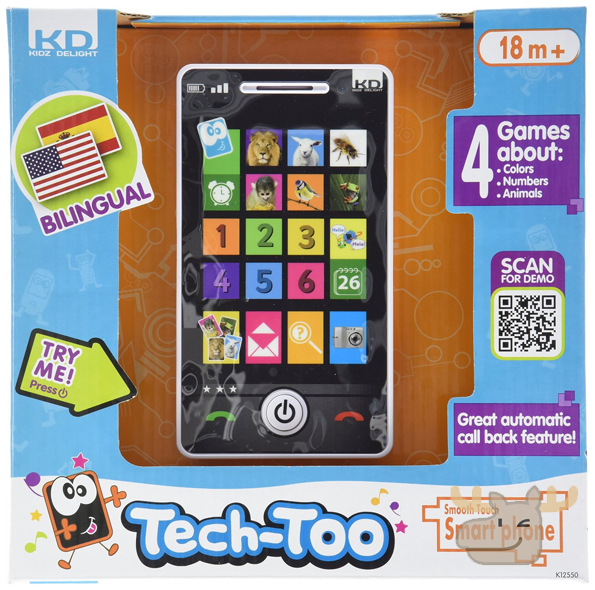 If you're on the lookout for gifts for a young toddler, there's a deal on this Tech-Too toy which you might want to check out. The black Kidz Delight Smooth Touch Smart Phone originally cost $21.99. but on Amazon.ca just now, it's dropped to only $9.44!
For those of us with Amazon Prime, we can get free shipping on this item without any other worries. But if you don't have Amazon Prime, shipping would cost a few bucks extra. Most people will want to top their order up to $25 or more, to get free super saver shipping. But if you don't have Amazon Prime, why not? Now is a fantastic time to take out a subscription, as we're finding hot deals here on Bargainmoose, which don't last very long. Those of us with Prime can just jump on the deals and not worry about shipping.
This little Tech-Too smart phone toy is for ages 18 months and upwards, and it has some very simple games which teach the kiddos about colours, numbers and animals. It comes with 2x AA batteries already included, so it's ready to go, out of the box.
I've tried to price compare with other retailers in Canada, but this toy isn't sold at many other places. I saw it on eBay.ca, but not at any toy retailers. It seems to be more prevalent in the US< but buying from there would incur high shipping plus the nasty exchange rate consequences. The deal from Amazon.ca is really good – buy it now and think later, it probably won't last long at this price.
There are only a couple of reviews on Amazon there, and they're a little mixed. If you take a look at this video on Youtube, you'll see more of what this little toy actually does. I think the mixed reviews on Amazon come from people expecting a lot more from the toy, from simply glancing at the picture. The package looks like an iPhone, but for $9, you're obviously not going to get something in any way comparable to an iPhone. The video shows you the types of simple games you can play.
(Expires: unknown)