Kids' Animal Morphsuits from $32 & Free Shipping @ Amazon.ca! (EXPIRED)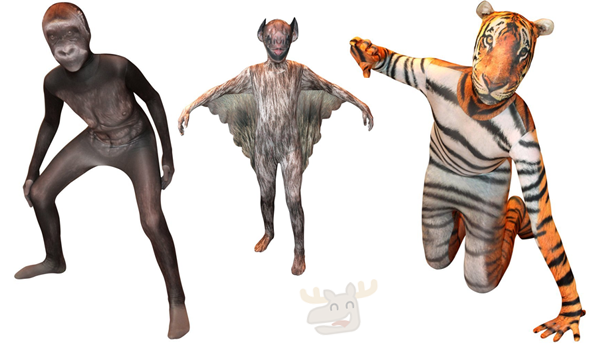 While browsing Amazon.ca, these Morphsuits came up in my recommended items, as I had previously been looking for costume ideas. I saw a thumbnail of the gorilla morphsuit pictured above left, and I just HAD to click in and see what it was! I've seen plain coloured morphsuits in the past, but I didn't realise that you could get patterned and character themed ones! There is a discounted deal on a number of animal morphsuits on Amazon Canada with prices starting around $32, so I thought I'd share these quirky costumes.
There are a few sizes to choose from (small, medium and large), but the prices I quote above are just the starting prices for select sizes. Large appears to be the cheapest in each case. Please note that the prices I am showing are from Amazon themselves – not from third party marketplace sellers (which may pop up). And as such, they will all come with free super saver shipping.
Size-wise, the listings state that these costumes are good for kids aged 6 to 12. I would imagine that small would be good for around ages 6 to 7, medium for 8 to 9, large maybe for 10 to 12; though they don't state that very clearly on the listing.
There aren't many online stores in Canada which actually sell this type of morphsuit to give you an accurate price comparison here. Over at Party City for example, there are plain coloured suits from $30, but then you have to factor shipping plus customs on top of that. At Costumesupercentre.ca, it's a similar story with the plain colours starting at $26 plus shipping. So for a little extra at Amazon, you're getting these amazing looking creations.
Prepare now for Halloween!!
(Expires: unknown)