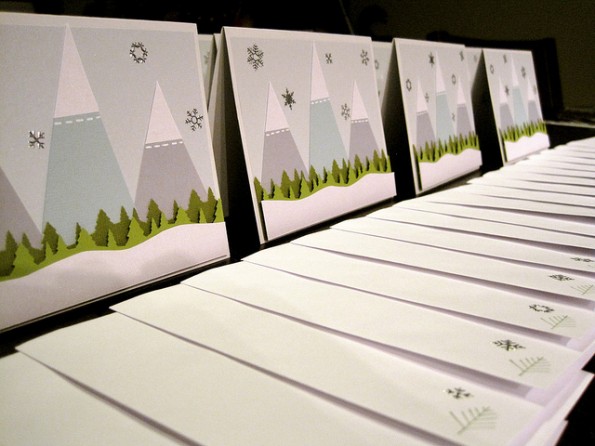 The holiday season is upon us and that means now is the time to start sending out your Christmas cards so they reach your loved ones by early to mid-December. Although this time of year can be quite expensive, here are a few ways you can save money on your Christmas cards without having to cut them from your holiday budget completely.
1. Design your own cards and get them printed in bulk
To save money on my thank you cards after my wedding, I took one of my wedding photos, added a nice graphic to it using Photoshop, then went to my local printer to get them printed. For about 50 cards it only cost me $30 including envelopes, so this would be a great way to cut down on costs for your Christmas cards too. If you don't have Photoshop at home and don't want to shell out hundreds of dollars to buy it, there are a number of free photo editing programs you can download such as Photoplus, PicMonkey, Picasa, and Seashore to get the job done. If you want to save even more money on printing your cards and you own a printer that can handle printing on photo paper or card stock, it might be worth it to spend the time to print your cards at home.
2. Take advantage of deals offered on online print websites
If you're not much of a graphic designer and would much rather just plop a photo into a ready-made design, you can take advantage or some great deals, flash sales, and free shipping by subscribing to e-newsletters from online print shops like Mixbook, Vista Print, and Snapfish. This was how I managed to save 50% off on my wedding photo album and it might be the route I go to save money on my Christmas cards this year too. Bargainmoose usually has coupons for these stores in the forum.
3. Make your own cards with materials you have around your home 
If you have a lot of craft materials at home like card stock, construction paper, paint, and glue, you can create your very own one-of-a-kind Christmas cards for a fraction of what it would cost you to buy some generic cards at the stationary store. For some ideas, check out the handmade cards shared on Carried Away's blog or Kelsey Learns to Bake's website.
4. Stock up on Christmas cards after Christmas
Although this may not help you this year, if you want to save money on next year's Christmas cards then the best way to do it is by stocking up on cards when they go on sale during Boxing Week. This is also great rule of thumb to save money on New Year's, Valentine's Day, Easter, and Mother or Father's Day cards too.
5. Go digital and send free Christmas eCards
If you want to send a nice holiday message to your friends and family but really don't want to dip into your Christmas budget, an eCard is definitely your best bet. You can either send free eCards through websites like BlueMountain.com, 123Greetings.com, and eGreetings.com, or if you want to add a more personal touch, design your eCard and email it out to your contact list instead. Hallmark also has a subscription that costs only $1 a month for unlimited e-cards.
Bargainmoosers, what do you think is the best way to save money on Christmas cards?
(Image: lindsay.dee.bunny)