House of Knives: Ice 3pc Travel Set with Mach3 Razor $99 (Was $165)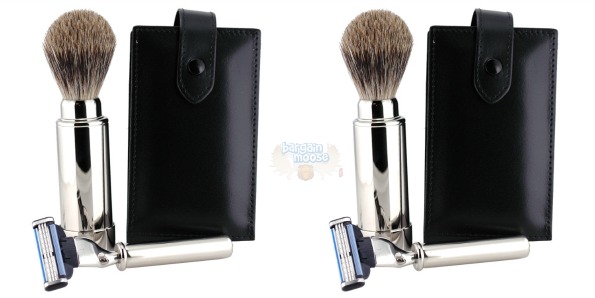 Still looking for a gift for Father's Day? How about picking up a beautiful nickel shaving set for your father? This Ice 3pc Travel Set with Mach3 Razor is built to travel and is on sale from $165 down to $99 with free shipping.
Let's face it: most men spend an awful lot of time shaving. For many men, it is a daily ritual while for others they can get away with every second day. This means a lot of time spent with a razor in hand and shaving creme on your face. However, most men will spend their entire lives handling a plastic/rubber razor handle and slathering the creme on with their hands. Enter the shaving kit.
This German made metal razor and brush set will not only improve the look of your shaving kit, it will also turn shaving into a more pleasurable ritual. The brush is made of pure badger hair for a perfect lather on your skin. The glossy metal handle accepts both Gillette Fusion and Mach 3 blades (and any blade like those) so you can change out your blades as necessary all the while enjoying this decadent handle that is sure to last a lifetime.
This set comes with a leather-traveling pouch to stick the brush and the razor into while you are away on business trips. It doesn't say for sure, but it looks like the head of the brush contracts back into the handle, which would make sense for a traveling set as it would keep the bristles free from damage. The travel pouch also is a good accessory for compact bathrooms or for men who like to stay neat and tidy.
This is a great gift for Father's Day, an anniversary, or his birthday. It is certainly something that will last him a long time and will certainly elevate his personal care experience. I think I bought my Dad a similar kit when I was younger, certainly not as high quality, but it was appreciated none the less.
If you are an Edge member, you will receive 5% back in Edge Point reward credits on your purchase. Also, as this kit costs $99, you can get it shipped to your house or the recipient's place for free. Alternatively, you can pick it up at your local House of Knives store free as well. If you are in a rush to get this for Father's Day, that might be the better option.
(Expiry: Unknown)