HOT! Save 91% off Ender's Game DVD Just $3 @ Amazon Canada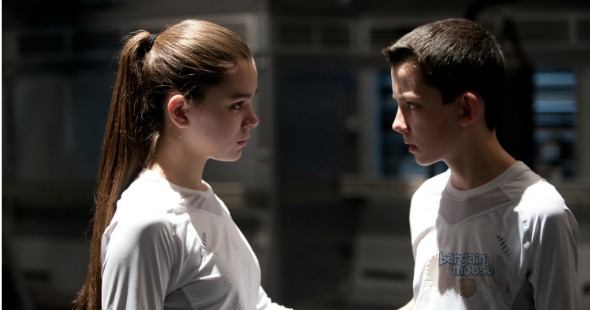 If you have been shopping for some hot deals at Amazon.ca, you are probably well aware that you need to spend $25 to get free shipping. Sometimes I find items for $23 or $24 and just can't find a filler for a low enough price. Problem solved. For a limited time, you can purchase the Ender's Game DVD for only $2.99. This DVD was originally priced at $32.99 so you are quite literally saving 91% off that previous price.
If you have read the Ender's Game novel, you won't want to miss this offer. For just $2.99 you can get the Ender's Game on DVD, while supplies last. This Ender's Game movie takes place in the near future. The Formics (a hostile alien race) have set an attack on Earth. If not for Earth's hero, all would have been lost. To prepare for the next alien attack, young children are trained to be the military's next great hope. Saying that, Ender's Game is an epic adventure movie. If you are into adventure and action movies, you should like it. You also can't beat the current price tag of just $2.99.
Out of 52 reviews, Ender's Game on DVD from Amazon.ca still holds a 4 star rating. Here is one of the reviews from Amazon Canada:
I decided to check out the DVD "Ender's Game" with my husband after he expressed an interest in watching it. Ender's Game follows the plight of a talented youth who shows potential for military leadership. Ender is selected for specialized training that would prepare him for an upcoming space battle. The character of Ender is shown enduring great tests to sharpen his readiness alongside other adolescents who are also highly gifted. Harrison Ford plays one of the military leaders who spearheads a great portion of the training. Ender's Game is great for those who like science fiction films with a metaphorical slant.
Personally, I have not watched this movie. I did like other science fiction films like Divergent and The Hunger Games so I am sure I would like it. For $2.99 you can't go wrong. Speaking of great films, have you guys watched Maze Runner yet? I loved that movie!
Get free shipping when you spend $25 from Amazon.ca. If you are looking to reach that total, Amazon.ca has a pretty good bundle available right now. You can purchase Ender's Game, Divergent and The Hunger Games: Catching Fire for just $27.98.
(Expiry: Unknown)