Groupon World Class Knives - $49 for An 18-Piece Knife Set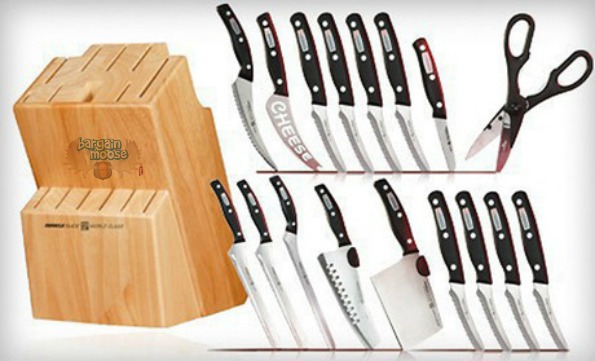 Groupon has a great sale on an 18-piece knife set from World Class. The shipping is free and within Canada only, and there is a limit of 3 per person & 2 more as gifts. Just purchase the Groupon and provide shipping information. Orders are delivered within 2 1/2 weeks. Sale is valid until November 19th 2012.
What a great Christmas present! I could not find it anywhere that was less expensive. Teambuy has the deal for a little less, but when you add their shipping and taxes, it's quite a bit more.
The set includes:
two all-purpose slicers
one carving knife
one chef knife
one chop and scoop
one fillet knife
one cheese knife
eight steak knives
one paring knife
one pair of kitchen shears
one wood block
These knives are the flash-forged, stainless-steel blades that are set in an easy to grip handle. The set is perfect for the average kitchen, whether you want to slice, shave or mash, and all the knives are dishwasher safe. They also come with a lifetime replacement warranty. I'm sold!
Shipping: Free.
(Expiry: 19th November 2012)